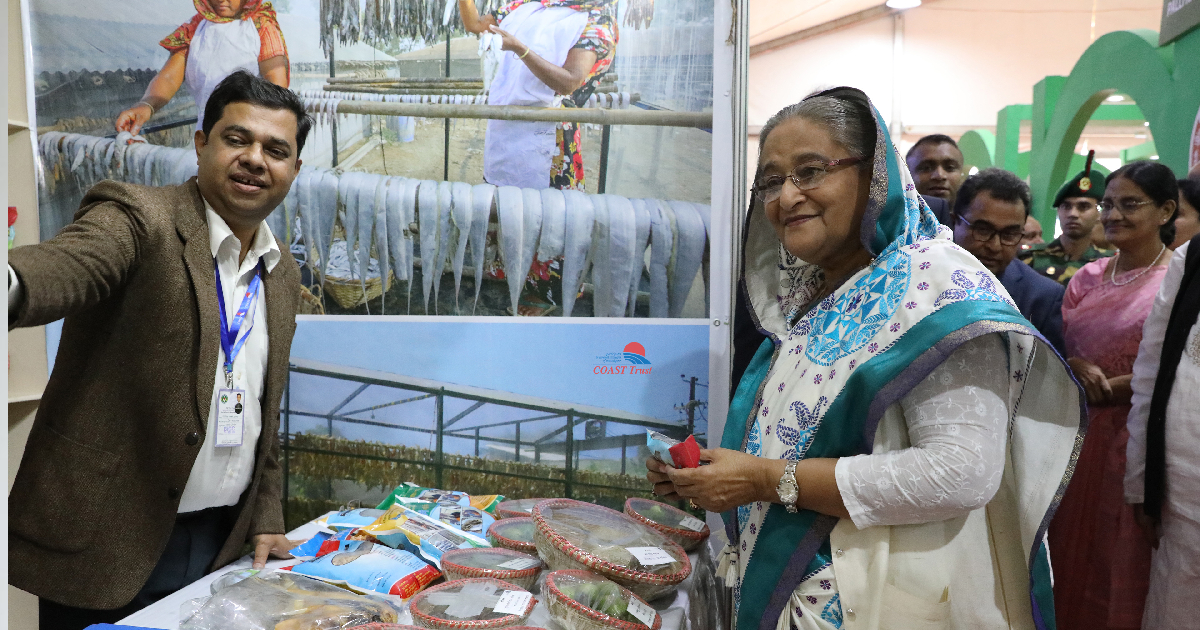 Prime Minister Sheikh Hasina has visited the stall of COAST Trust at the Palli Karma-Sahayak Foundation (PKSF) Development Fair and hailed its endeavour to promote seaweed cultivation in Cox's Bazar.
She spent eight minutes in the COAST stall after opening the "Development Fair 2019" at Bangabandhu International Conference Centre (BICC) on Thursday, said a press release on Saturday.
The Prime Minister also assured the NGO of supporting its initiative to promote seaweeds and produce pesticide-free dry fish.
Former Agriculture Minister Matia Chowdhury also showed interest in seaweed cultivation. PKSF Chairman Dr Qazi Kholiquzzaman Ahmad and its Managing Director Mohammad Moinuddin Abdullah were also present on the occasion.
COAST Deputy Director Tarik Sayed Harun apprised the Prime Minister of its development activities.
The PKSF arranged the seven-day fair to expand the market of products produced by marginalised people.
COAST is motivating farmers and fishers to cultivate seaweeds and pesticide-free dry fish in Cox's Bazar. Along with technical and financial support, it is also providing support to establish market linkage.
COAST has so far involved about 300 producers who are producing dry fish without using any pesticide. All the producers have received theoretical and practical training on different eco-friendly methods of dry fish production.