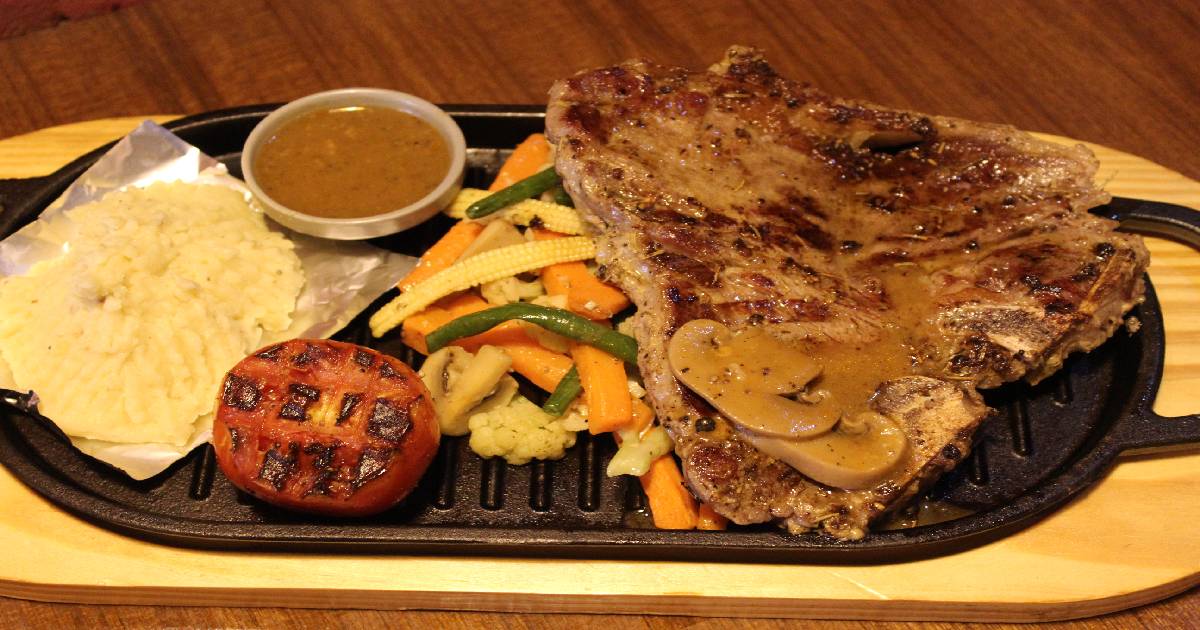 These steaks may look from steakhouses of Gulshan or Banani but they're actually from a small boutique steakhouse in Malibag, Khilgaon. With their opening date a little around 6 months ago, LongHorn Steak & Pizza is perhaps the only steakhouse in Khilgaon offering premium Bengal meat cuts for their customers.
I'll start with their downs first this time. Their location is not only inconvenient to find but they are also located on the main road causing noise to enter their premises. To add to that, there is also no parking available making it difficult for guests to find a proper parking space around. Upon entering their restaurant, you will notice that it is in fact, a very tiny space.
However, the tiny space is nicely decorated giving you a somewhat cozy vibe. You are then presented with a welcome drink to sip on while choosing from their food and beverage menu. There we were, two carnivores, ogling at the meat section. We ended up ordering a T-bone steak and a Premium Rib-Eye steak, both with a side of sautéed vegetables and mashed potato.
We ordered a Shrimp Cocktail as starter. Basically it's a cold dish consisting of boiled shrimp, a sauce of mayonnaise consistency, lettuce, and eggs. If you're a fan of cold salads and such, you'll dig this dish as the shrimps incorporate well with their house special sauce. I loved the sauce itself but compared to traditional Shrimp Cocktails, the dish could use some more spice and lime.
The T-bone steak is not my preferred cut for steak since they tend to taste rough if not cooked well. This steak was also thinner than usual but was very filling. The mushroom sauce helped bring taste to this slab of meat but it's still the Premium Rib Eye that stole my heart! Unlike the rough texture of the T-Bone, this steak was actually very soft and juicy! Both the steaks had medium doneness but the fat on this piece managed to bring richness in taste. The mashed potato was seasoned well and was of acceptable consistency. It had some chunky bits of potatoes and was buttery as well. The sautéed vegetables, though, could use some more time on the stove.
In summary, I think LongHorn definitely has potential to become a favorite among Khilgaon residents. While their pricing is slightly high compared to other eateries in the area, the quality of food that they offer is also worth it. Do give their Premium Rib-Eye a try. I still can't stop thinking about it!