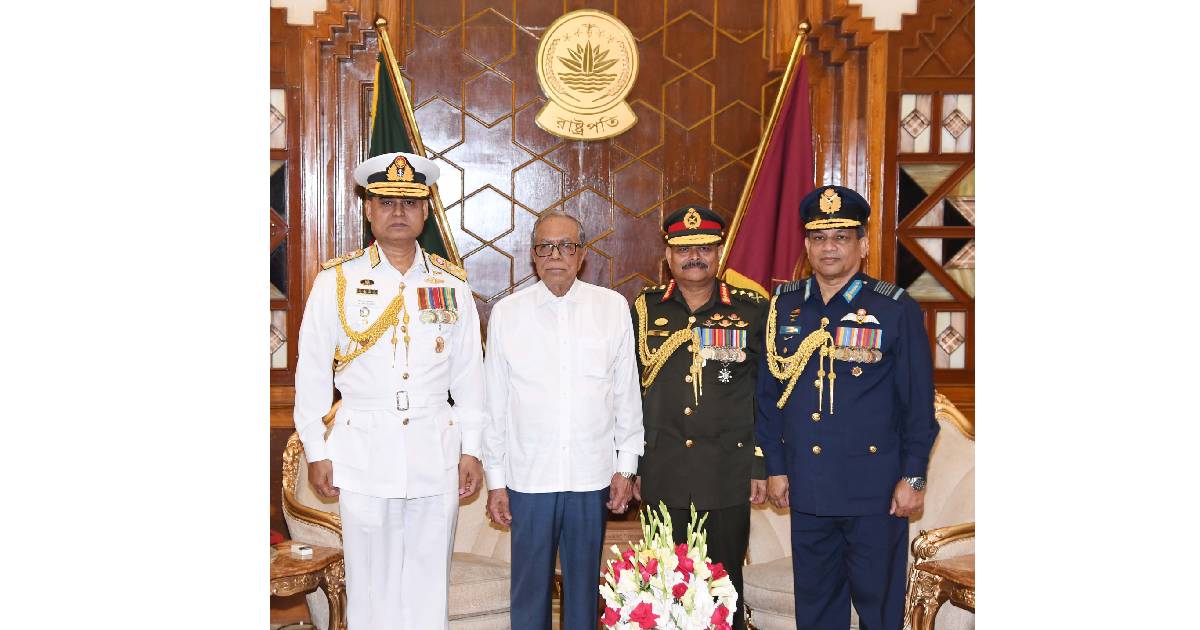 Chiefs of the three services on Thursday called on President Abdul Hamid on the occasion of the Armed Forces Day at Bangabhaban.
Chief of Army Staff General Aziz Ahmed, Chief of Naval Staff Admiral Aurangzeb Chowdhury and Chief of Air Staff Air Chief Marshal Masihuzzaman Serniabat met President Hamid, who is also the Supreme Commander of the Armed forces, at noon.
During the meeting, the President discussed various issues related to the armed forces, his press secretary Joynal Abedin said.
Chiefs of three forces also apprised the President of their measures for their respective forces to ensure their welfare.
President Hamid greeted and congratulated the three chiefs and members of the Armed Forces on the occasion of the Armed Forces Day.
He remembered with gratitude the role of the Armed Forces during the Liberation War and hoped that they will devote themselves to the need of the country anytime.
The President said, "Our Armed Forces have been contributing positively to the socio-economic development of the country as well as protecting the sovereignty of Bangladesh."
He said the Armed Forces have also played a vital role in brightening the country's image by participating in different peacekeeping programmes.
As part of 'Forces Goal-2030', the government is implementing various development projects for the Armed Forces, he also said.
President Hamid hoped that overall development including the strategic development of the three forces will continue in future.
The chiefs of the three forces apprised the President of the overall activities of their respective forces.
Secretaries concerned to the President's Office were present.
Earlier in the morning, President Abdul Hamid paid rich tributes to the martyred members of Bangladesh Armed Forces on the occasion of the Armed Forces Day 2019.
The Supreme Commander of the Armed Forces placed a wreath at the altar of Shikha Anirban (eternal flame) in Dhaka Cantonment in the morning.
He stood there in solemn silence for a while as a mark of respect to the memories of the martyrs.
Later, a smartly turned out contingent of the Army, Navy and Air Force presented a salute on the occasion. President Hamid also signed the visitors' book there.
Earlier, on his arrival at Shikha Anirban, Chiefs of the three services and the Principal Staff Officer (PSO) of the Armed Forces Division received the President.
On this day during the War of Liberation in 1971, the Bangladesh Armed Forces comprising army, navy and air force, came into being and launched an all-out attack on the Pakistani occupation forces.
Since independence, this day is being observed as the Armed Forces Day every year.