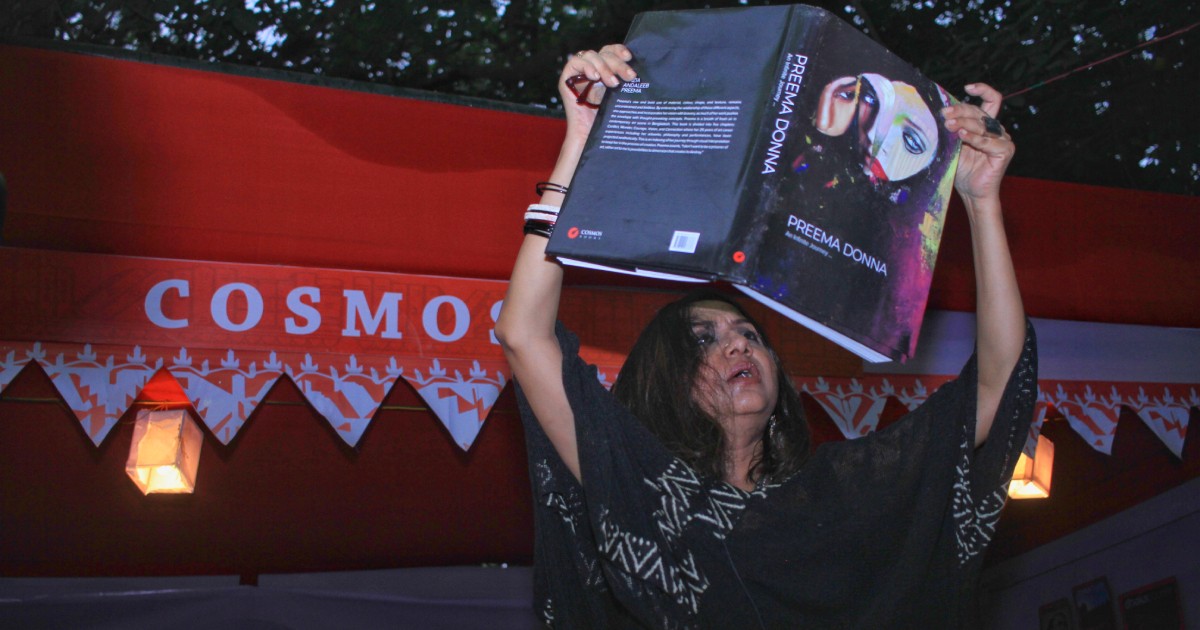 Representing Bangladesh throughout a majestic career of 25 glorious years as a prolific visual artist, Nazia Andaleeb Preema is an established name in the global art community. Tuesday marked the birthday of this dynamic, talented and successful artist.
Her enthralling artistic journey was celebrated this year through her book 'Preema Donna: An Infinite Journey', an artistic visionary book which was unveiled with her enthralling, mystic performance at this year's Dhaka Lit Fest.
Published and produced by Cosmos Books, the book's foreword has been written by National Professor Dr Anisuzzaman. Divided into five chapters, the book depicts Preema's artistic journey of 25 years.
Portraying Preema's brave approach of aesthetical vision that depicts her philosophy of context, 'Preema Donna' has already started earning critical acclaim from the art enthusiasts of the country.
"This publication is my inspiration to be more committed towards my intense journey of creativity, and I dedicated the book to the next generation of creative minds to proceed with their passion in art. I believe it is a vice-versa process, and I urge them to have a deeper look at life- a process which made whoever I am today," Preema said about her book.
She thanked Cosmos Group and Enayetullah Khan for always supporting artistes with initiatives such as this publication.
The artist has showcased her performances in many international exhibitions, including the ongoing 58th La Biennale di Venezia, 2019 in Italy. Her work, 'Fake news, women and visibility paradox', is currently being showcased at the biennale, which marks Bangladesh's third consecutive participation in the ongoing Venice Art Biennale.
Preema did her Graduation (BFA) and Masters (MFA) from (drawing and painting department) of Dhaka University. To complement her creative urge, she completed a seven-year certificate course in Tagore and classical music from Chhayanaut Sangeet Vidyayatan. She received fellowship in Visual Arts from the "Global Art Village", New Delhi, India in 2005.
Currently serving as the Director and Curator of "Bangladesh Art Forum", she has been curating exhibitions to promote Bangladesh Art in International Art platform (Asia House/London (2010, November), Foundation Alliance Française/Paris (2011), Cité Internationale des Arts/Paris (2011) and many more.
Preema is also an advisor and creative editor to Bangladesh Brand Forum and Consultant for web, graphic and digital art for local and multinational corporate houses for the last 14 years.
A pioneer web-master and graphic designer in Bangladesh who started her career in 1997 and is still going strong, Preema has been working with various prestigious national and multi-national organisations as a web and graphic design consultant since 1997. She is now exploring her majestic digital experimentations, which include video installation, performance and digital illumination, along with the traditional techniques of art.
Preema's painting was auctioned for Cancer Charity (2008) at the "Grosvenor House", London.
She is one of the very few artists with distinct technique and unbeatable boldness in Bangladesh who has incorporated new media (performance, video installation and digital art) over genres, ranging from traditional to digital through challenging her limits. These made Preema one of the dynamic and provocative contemporary visual artists of today's generation in the country.
Some of her important video performances and live arts are 'Monajat' 2008, 'And Stare Continues' 2009, 'Marry my Egg' 2011, 'Monologue' 2012, 'Aged with cell phones' 2014, 'Ico-lation' 2015, 'News Agony' 2015, 'Existence' 2016, 'Intimacy Conflict'' 2016, 'My unborn Fetus' 2017, 'Blindfold' 2017, 'Intersection' 2018 which are widely exhibited and received high acclamation internationally.
Along with 20 solo (Bangladesh, India, Sri Lanka, Thailand, Japan, USA, UK, Turkey, Morocco, Uzbekistan) exhibitions, she has also enriched her career by participating in five Asian Art Biennales, Fukuaka Museum Residency, two Tashkent Biennales, Istanbul Biennale, Venice International Art Expo (2010, 2012, 2014) along with prestigious art fairs (Art Basel Miami, Tuyup Art Fair/Istanbul, Dubai Art Festival, Dhaka Art Summit, Delhi International Art Festival).
Preema received BASIS (Bangladesh Association of Software and Information Services) award 2016 in Visual Arts category, PRIDE of Bangladesh recognised her as the most prolific visual artist of 2016, prestigious Anannya Award as recognition of being the outstanding woman in creative field of Bangladesh for 2014, Fukuaka Museum grant in 2012 for art residency, Royal Overseas Award 2011 in Fine Arts, Britain, honourable mention award in fine art category by Jatiya Mahila Parishad (2009), Shilpacharya Zainul Abedin Award in Painting by Bangladesh Charushilpa Parishad (2007/2008), Web Art Award (1st prize) by Bangladesh University of Engineering and Technology (2006).