Community health workers bear outstanding history of services in health sector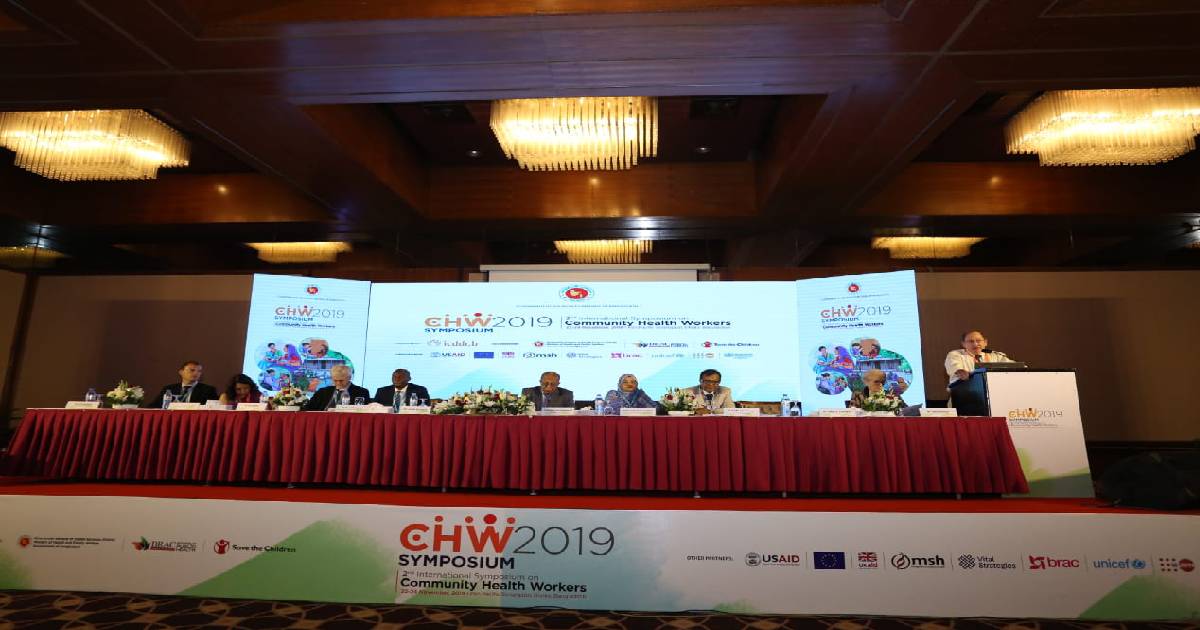 The three-day second international symposium on community health workers (CHWs) that began in the city on Friday demonstrated that interventions from CHWs could lead to less emergency department visits and less hospitalisation, thus reducing healthcare costs.
Professor Dr Syed Modasser Ali, the Community Clinic Health Support Trust Chairman at the Ministry of Health and Family Welfare, officially inaugurated the international symposium.
icddr,b in collaboration with the Directorate General of Health Services (DGHS), Ministry of Health and Family Welfare (MoHFW), government of Bangladesh; BRAC James P Grant School of Public Health (JPGSPH) and Save the Children, Bangladesh are jointly organising the symposium that will continue until November 24.
Scientist and Project Director, SHARE Project, Health Systems and Population Studies Division at icddr,b Dr Iqbal Anwar delivered the welcome speech while the keynote speech titled "Primary Health Care 2.0: from Alma-Ata to Astana" was given by Dr Rory Nefdt, Senior Advisor, UNICEF, USA.
Modasser Ali welcomed the participants to Bangladesh and said community health workers have an outstanding history of providing vaccination, essential health service package and family planning services in Bangladesh.
He said a recent addition to take the primary healthcare to the doorsteps of the rural population is 'community clinic', which is a brain child of Prime Minister Sheikh Hasina.
"Community clinic is now serving 50 million rural people of Bangladesh, which is indeed exemplary for other developing countries," he said.
This year's theme is 'Potentials of Community Health Workers in Prevention and Control of Non-communicable Diseases (NCDs) in the Context of Universal Health Coverage (UHC)'.
Globally, NCDs kill 41 million people annually, which is equivalent to 71 percent of all deaths. Each year, 15 million people die from a NCD between the ages of 30 and 69 years; over 85 percent of these 'premature' deaths occur in low- and middle-income countries (LMICs).
It also perpetuates poverty while hindering economic development in these countries.
The symposium theme further expanded into four subthemes – CHWs programmes in low- and middle-income countries; CHWs and Universal Health Coverage; CHWs in special situation such as urban healthcare, disaster and climate change and humanitarian context; and CHWs programmes and prevention and control of NCDs.
Over the last 100 years, CHWs have been successfully working on key areas such as birth and death registration, vaccination, providing basic healthcare, education, and counselling services.
Their efforts have helped governments of LMICs to significantly tackle communicable disease-related mortality.
However, the recent rapid shift in disease burden has compelled global public health experts to re-think how best CHWs can be utilised in detection, screening and treatment of NCDs, as well as palliative care.
Sudebi Gusswami, CHCP, Dhamrai, Dhaka, Bangladesh; Dr David Musoke, Co-Chair of the Health Systems Global Thematic Working Group on CHWs, Uganda; Dr John D Clemens, Executive Director at icddr,b; Professor Dr Sabina Faiz Rashid, Dean and Professor, JPGSPH; Judith Herbertson, Country Representative, DFID Bangladesh; Hans Lambrecht, first secretary and Team Leader, Education and Human Development, EU Delegation to Bangladesh; and Professor Dr Nasima Sultana, Additional Director General (Admin), DGHS, MoHFW, Bangladesh also spoke in the inaugural ceremony.
Approximately 500 participants from 35 countries have registered, comprising of policymakers, health professionals, public health experts, academicians, representatives from government and non-government organisations, and researchers.
Among others, Dr Seharla Abdulahi, State Minister of Health-Operation, Ethiopia also participated in the symposium, according to icddr,b.
The symposium is also supported by the USAID, European Union, UKaid, MSH, Vital Strategies, BRAC, UNICEF, UNFPA, and WHO.