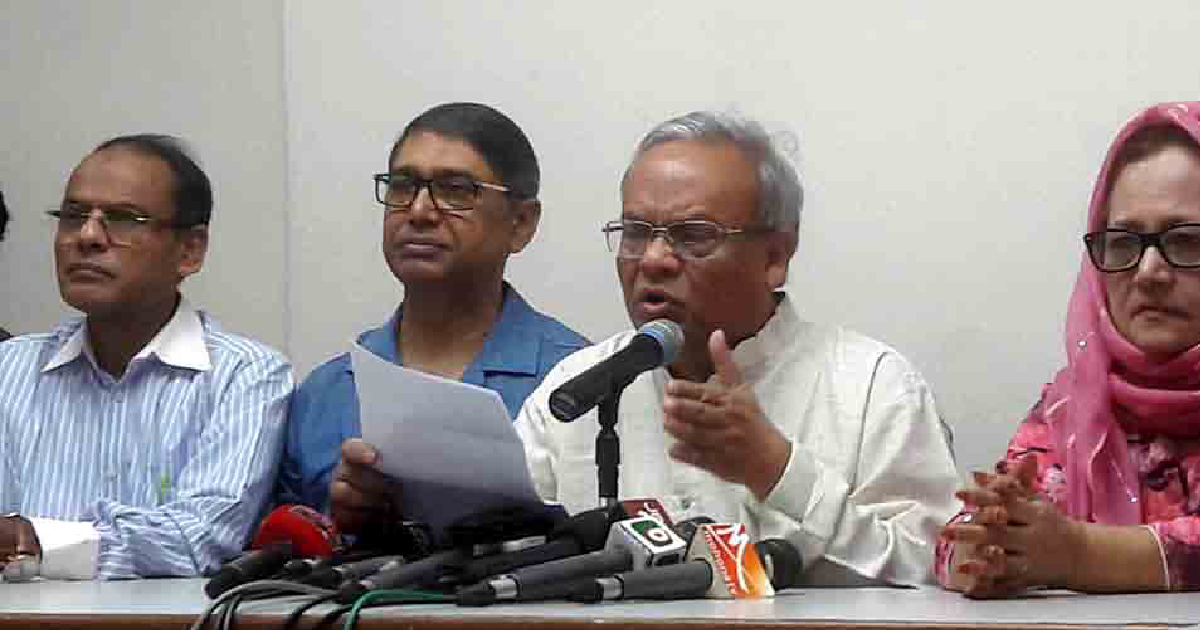 BNP on Saturday voiced anger as the party alleged that Prime Minister Sheikh Hasina did not raise the issue of ensuring fair share of water from the Teesta River during her Friday's meeting with West Bengal Chief Minister Mamata Banerjee.
"The Prime Minister met West Bengal Chief Minister Mamata Banerjee as she went to India. The country's people had an expectation that she would return home resolving the Teesta water-sharing problem. But the meeting was limited to only exchanging saris," said BNP senior joint secretary general Ruhul Kabir Rizvi.
Speaking at a press conference at the party's Nayapaltan central office, he further said, "Nothing was found (from the meeting) let alone the fair share of water from the Teesta Rive)."
He alleged that the government has gifted India the Feni River's water without exchanging anything though the people in the country's northern region, including Nilphamari, Lalmonirhat and Kurigram, are facing serious water crisis in the irrigation season since India is not giving Bangladesh the fair share of water from the Teesta River.
"But the Prime Minister didn't talk about the problem. People are getting killed along the border almost every day, but Sheikh Hasina has kept her mouth shut also over the matter," Rizvi alleged.
The Prime Minister is least concerned about the water crisis of the country's people in the northern region and the killing of Bangladeshis along the border, he observed.
"She (Hasina) can't sense the resentment of the people of her own country. She knows only to give, not to take as she's satisfied only with the guarantee for staying power," Rizvi added.
He said Awami League's ideal is to repress the country's people, but remain subservient to other countries.
Sheikh Hasina on Friday morning went to Kolkata on a short visit and jointly rang the bell for the opening of the first-ever day-night Test match for both Bangladesh and India.
Later, she had a meeting with the West Bengal chief minister.
Rizvi criticised Awami League general secretary Obaidul Quader for his remark that the government could control everything in the country except BNP's mouth.
"His (Quader's) comment echoed the autocratic ruler," the BNP leader observed.
He also alleged that the Commerce Minister is making bizarre comments about onion when the prices of the essential items are soaring.
Rizvi said there is a public perception that thousands of crores of taka are being plundered by a business syndicate, led by the businessmen-turned ministers, from markets.
He said no activity of the Commerce Minister was visible when the onion crisis hit the country and the prices of essential commodities have gone out of control.
Rizvi said people believe that the business syndicate, under the leadership of the Commerce Minister, has abnormally raised the prices of essential commodities, including that of onion.