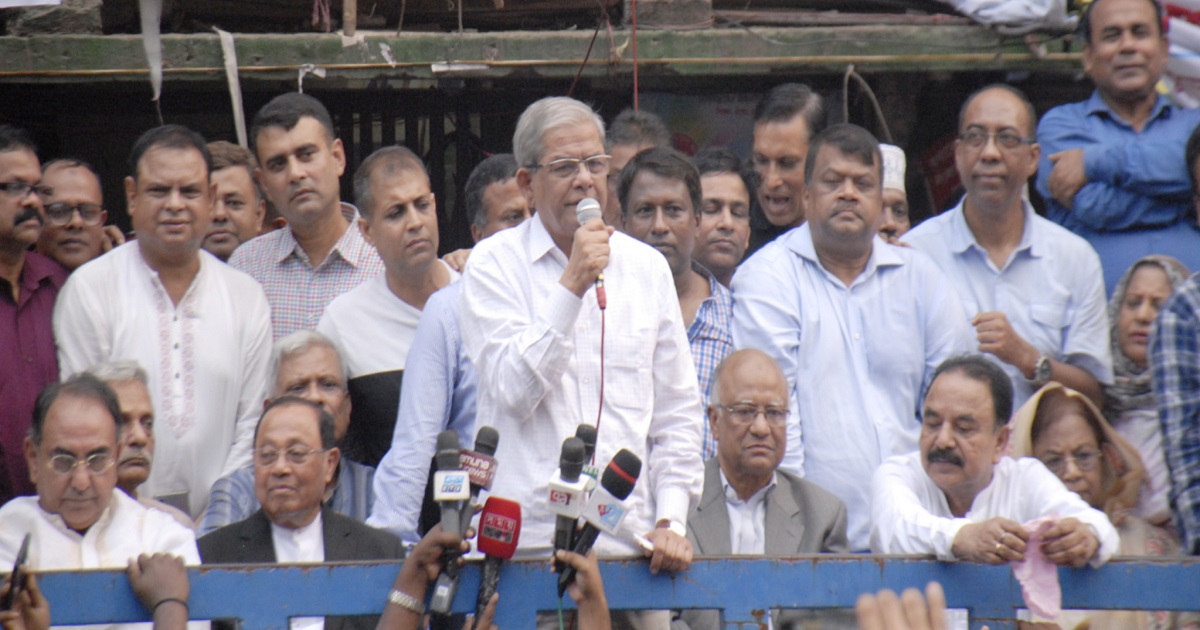 Criticising the government for its 'failure' to control the soaring prices of essential items and take action against unscrupulous business syndicates, BNP senior leaders on Sunday declared to wage a mass movement to ensure its fall and free their chairperson Khaleda Zia from jail.
Speaking at a public rally, they also announced that they will take to the streets and hold rallies from now on without taking any permission from government authorities.
BNP arranged the programme in front of its Nayapaltan central office central demanding the release of party chairperson Khaleda Zia.
"We all have gathered here with only a goal to create a mass upsurge. We must unite and organise the people of all walks of life within a short time to wage a mass movement to unseat the government and free Khaleda Zia," said BNP secretary general Mirza Fakhrul Islam Alamgir.
He said their chairperson has been kept in jail for nearly 20 moths 'unfairly only because of the government's political vengeance.
"This government lacks people's mandate to run the country since it usurped power illegally by force. That's why they (govt) are loyal to others who've kept them in power instead of the country's people," the BNP leader said.
He said the government has failed to deliver on all fronts as all the state institutions have become ineffective. "No institution is now working. They're appointing thousands of people to the police, but the crimes like killing, rape, snatching and robbery are not reduced. They've formulated the Road Safety Act, but hundreds of people are getting killed and injured in road accidents. Business and trade have also collapsed."
Fakhrul said the government has snatched people's right of expression while it is unwilling to allow BNP to hold any rally. "We got permission for this rally at 10am today (Sunday). So, we'll no longer take permission in the future. Whenever necessary, we'll hold rallies and take to the streets as it's our constitutional and democratic rights."
BNP standing committee member Khandaker Mosharraf Hossain said Khaleda Zia has not been released on bail as the current 'fascist' government has established its full control over the judiciary.
He said Awami League general secretary Obaidul Quader made a true statement that the government could control everything in the country except the BNP leaders' voice. "They're controlling the judiciary and law enforcers. Obaidul Quader and other ruling party leaders had control over the casino business, and they've now full control over the market to loot people by increasing the onion price to Tk 200 from Tk 20. The salt price has been increased to Tk 300, creating a scope for a few people to plunder public money."
"The fascist and unelected Prime Minister rang the bell in Kolkata for opining he game (Test match between Bangladesh and India). I would like to say the bell of her fall in Bangladesh has already rung through the overheated market. This government won't be able to last for long if the nationalist forces can only give it now only a push. I urge all to get ready for it," Mosharraf observed.
Another party standing committee member Moudud Ahmed said all the ruling party leaders, even the upazila-level ones, have amassed wealth through corruption though people are becoming poorer.
Moudud, a former law minister, said it is regrettable that the judges now cannot work independently due to the political influence of the government. "That's why our chairperson Khaleda Zia has been staying in jail for so long. We must take to the streets very soon with action programmes to restore the rule of law and the independence of the judiciary, and democracy."
The BNP leader said the government backed syndicate is raising the prices of essentials, including that of onion, rice and salt, to make quick buck exploiting the helpless people.
BNP standing committee members Mirza Abbas, Gayeshwar Chandra Roy, Dr Abdul Moyeen Khan, Amir Khosru Mahmud Chowdhury, Selima Rahman and Iqbal Hasan Mahmud Tuku, among others, spoke at the rally held with Dhaka South city unit general secretary Kazi Abul Bashar in the chair.