UN for holistic approach to reduce violence against women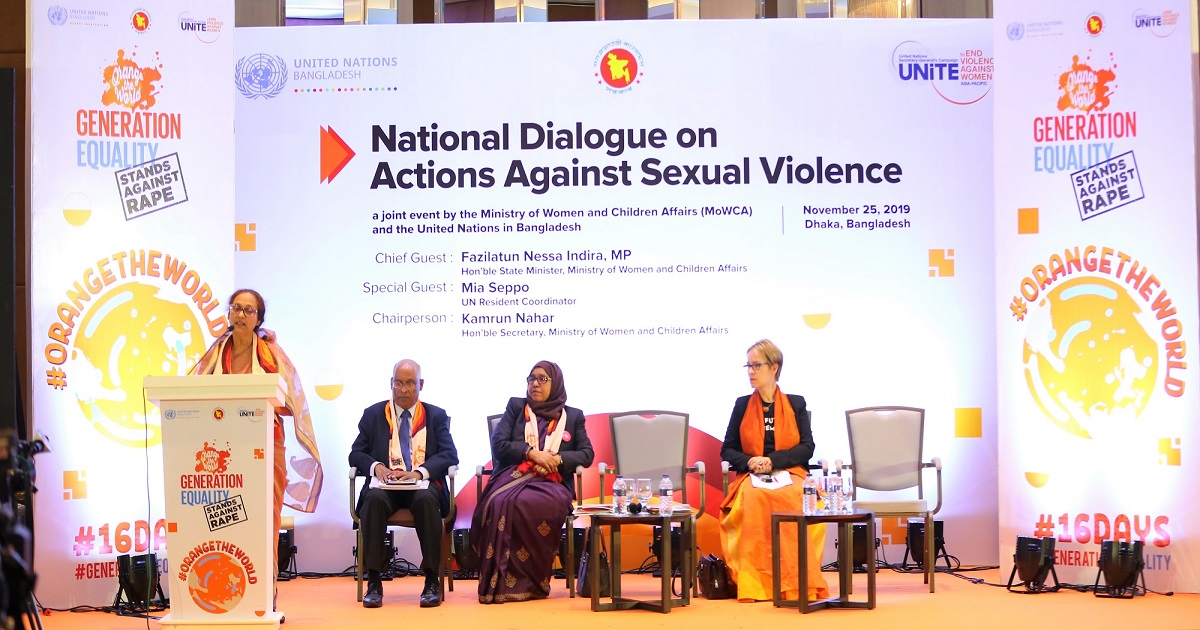 The Ministry of Women and Children Affairs and the United Nations in Bangladesh on Monday jointly launched a 16-day activism against gender-based violence by holding a national dialogue.
State Minister for Women and Children Affairs Begum Fazilatunnesa Indira spoke as the chief guest at the dialogue with theme of 'Orange the World: Generation Equality Stands against Rape' at a city hotel.
UN Resident Coordinator in Dhaka Mia Seppo spoke as special guest at the dialogue chaired by Secretary Kamrun Nahar.
16 Days of Activism Against Gender-Based Violence is a global campaign to challenge violence against women and girls.
The campaign runs every year from November 25, the International Day for the Elimination of Violence against Women, to December 10, Human Rights Day.
Violence against women and girls is one of the most systematic, widespread human rights violations worldwide.
Despite the progress made so far in the normative and policy framework in Bangladesh, the incidence of violence against women and girls is still very high, according to UNDP.
More than two out of three (72.6 per cent) ever-married women in Bangladesh have experienced some form of partner violence in their lifetime, and more than half (54.7 per cent) have experienced it in the last 12 months.
The national dialogue was devised to promote a deeper understanding of the root causes of rape and sexual violence and framing it as a national pandemic that requires an urgent and systematic response.
Over the last few decades, Fazilatunnesa said, Bangladesh has adopted laws and policies meant to promote gender equality and address violence against women and girls.
She said the National Action Plan on violence against women and children (2018-2030) was revised and launched in November 2018 but women and children are still the victims of different forms of violence.
The State Minister urged all to stand against any violence targeting women and children.
Mia Seppo emphasised holistic approach to reduce the number of rape cases or any other violence against women.
She said UN's unwavering commitment to eradicate rape and sexual and gender-based violence is manifested in its support of the 16 Days civil society initiative.
Seppo said, "We must change the narrative of rape, from blaming victims to holding the perpetrators accountable for using rape as a means to exert power and dominance over women. We must raise awareness about the key issue of consent, that only 'yes means yes', and that consent must be given freely without manipulation or coercion."
Earlier, Dr Abul Hossain, Project Director MoWCA, Taslima Yasmin, Associate Professor, University of Dhaka, Farah Kabir, Executive Director, Action Aid Bangladesh, Sheikh Rafiqul Islam, Additional Secretary MoWCA, Shoko Ishikawa, Country Representative, UN Women, Sayed Saikh Imtiaz, Associate Professor, University of Dhaka, Jayasri Shamaddar, Judge, Sm Nahida Nazmin, Additional District Judge, Farida Yeasmin, Deputy Police Commissioner, Sheepa Hafiza, Executive Director, Ain o Salish Kendra, Asa Torkelsson, Country Representative, UNFPA, Ramendu Majumdar, Media personality, Barrister Shameem Haider Patwary, MP, took part at different panel discussions to understand drivers of sexual violence from a gender perspective and to identify solutions to address and eliminate the culture of rape.
Umama Zillur, Founder and Director of KOTHA, shared the call for action for future.