Rohingya relocation process to Bhasan char still on, he says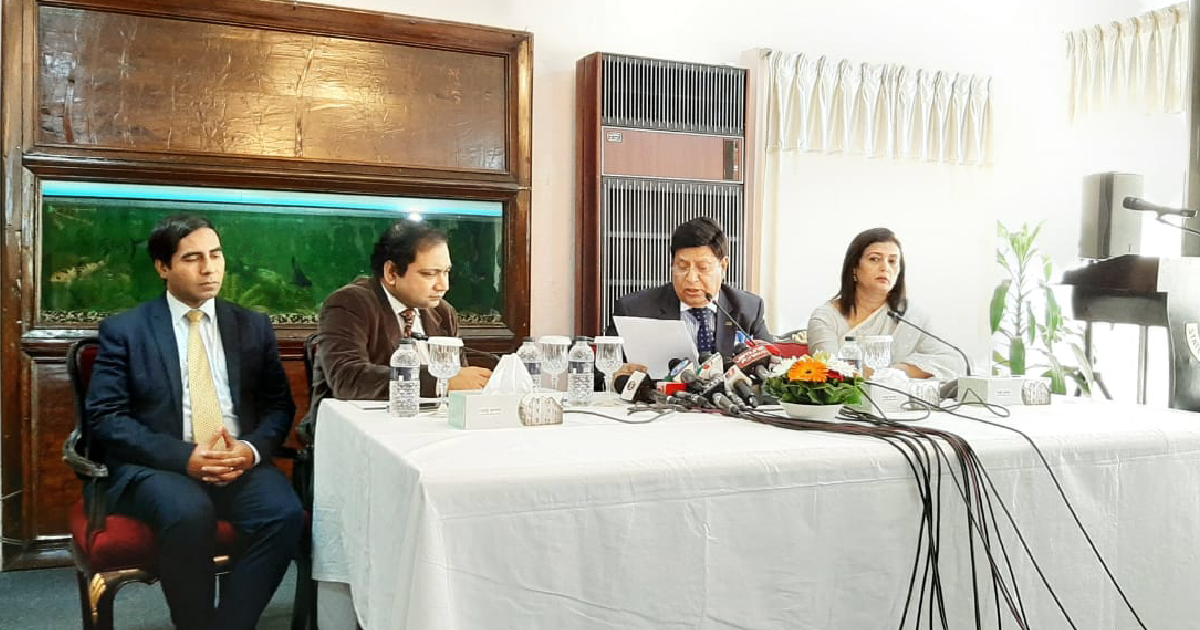 Foreign Minister Dr AK Abdul Momen on Wednesday said the scheduled visit of the Army Chief to Myanmar will be good for Bangladesh and "open another line of negotiation" between the two countries over Rohingya repatriation.
"We want to resolve it (Rohingya crisis) through discussions. I think it (the visit) will go in favour of us. It'll be good for us," he told reporters at State guesthouse Padma.
Dr Momen said Myanmar is not Bangladesh's enemy but a friend and in Myanmar, their army plays a very significant role.
In this situation, he said, it will be good for Bangladesh if Army Chief General Aziz Ahmed goes there.
The Army Chief recently said he will go to Myanmar next month where they will discuss issues relating to improving the relationship between the two countries.
Many issues will come up and they may talk about the Rohingya issue but whatever happens, it will be in the interest of Bangladesh, he said.
The Foreign Minister said Myanmar created the Rohingya problem and its solution depends on Myanmar, too
He said they remain engaged on all front and expect a solution to Rohingya crisis through negotiation and discussion.
'Rohingya relocation process to Bhasan Char still on'
Bangladesh is hosting over 1.1 million Rohingyas and most of them entered Cox's Bazar since August 25, 2017 amid a military crackdown on the mainly-Muslim ethnic minority in the Rakhine State.
Asked whether the government postponed Rohingya relocation plan to Bhasan Char, the Foreign Minister said, "Surely, it has not stopped. Our process is still ongoing."
He said Bhasan char relocation plan is a temporary arrangement as the existing Rohingya camp is overcrowded with risk of landslides and subsequent deaths.
"We won't force anybody to go there. Any relocation will be in voluntary nature. We wanted to relocate them there for their betterment and avoid risk or reduce risk," Dr Momen added.
The government of Bangladesh has already developed Bhasan Char island to accommodate some 1,00,000 Rohingyas.
'Ready to send back Rohingyas'
On November 15, Myanmar made another venture to "unduly attribute the non-commencement of repatriation" of the Rohingya entirely to non-cooperation and non-respect of bilateral arrangements by Bangladesh.
Rejecting baseless accusation, falsification and misrepresentation of the facts over the Rohingya repatriation, Bangladesh on Sunday said the government of Myanmar must stop such concocted campaign.
"We're ready to send them (Rohingyas) back. We stand ready," said Foreign Minister Dr Momen.
Earlier, Bangladesh urged Myanmar to concentrate on the fulfillment of its obligations so that the forcibly displaced Rohingyas could return home in a "safe, dignified and voluntary" manner.
It said continued rally of fabricated information, misrepresentation of facts, unsubstantiated claims, and unwarranted accusations to unjustifiably shift the onus of the Rohingya crisis on Bangladesh testifies the campaign of the government of Myanmar to avoid its obligations to create an environment in Rakhine conducive for the sustained repatriation and reintegration of the forcibly displaced Rohingya in their homeland.
Not a single Rohingya was repatriated over the last two years due to Myanmar's "failure" to build confidence among Rohingyas and lack of conducive environment in Rakhine State, officials here said.
Bangladesh has so far handed over names of over 1,00,000 Rohingyas to the Myanmar authorities for verification and subsequently expediting their repatriation efforts but Myanmar is yet to take back its nationals from Bangladesh, according to the Ministry of Foreign Affairs here.
Earlier, Dr Momen briefed the reporters on Prime Minister Sheikh Hasina's participation at the 25th UN Climate Change Conference to be held in Madrid, Spain next month.
The 25th session of the Conference of the Parties (COP 25) will convene from December 2-13.
The Prime Minister will leave Dhaka for Madrid on December 1 and will leave Madrid for Dhaka on December 3, said the Foreign Minister.
Earlier, Chile, citing the impact of the ongoing anti-government protests, announced that it was withdrawing as host of the upcoming COP25 annual climate summit.