Myanmar must create conducive environment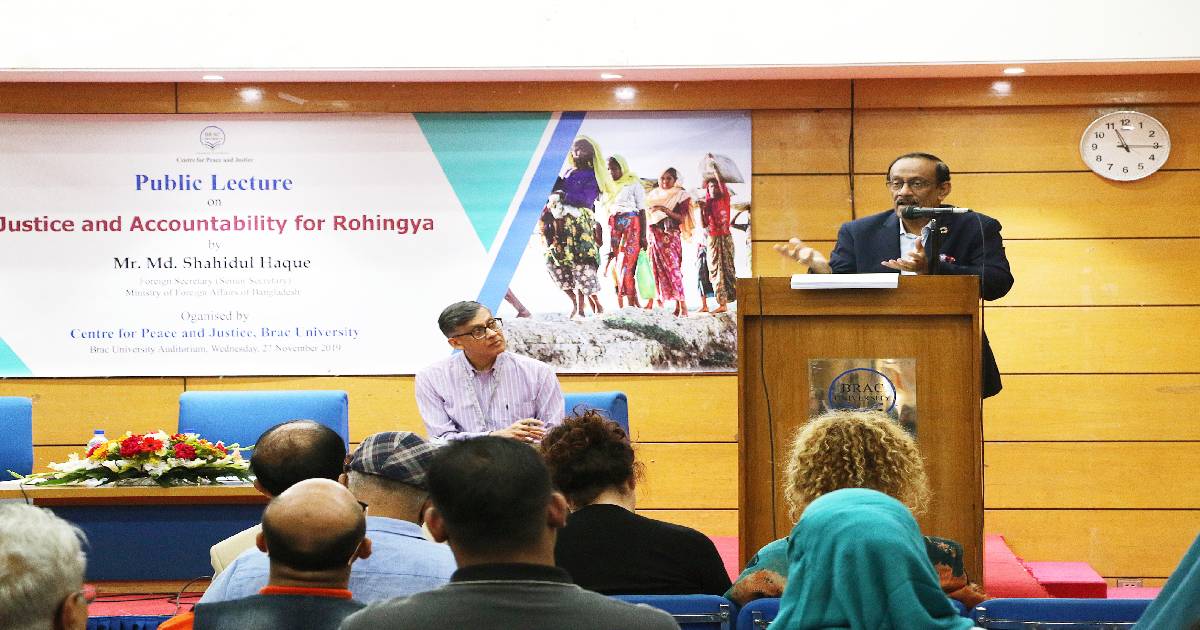 Foreign Secretary Md Shahidul Haque on Wednesday said Bangladesh will continue to pursue accountability efforts, impetus for which must come from the international community, to create pressure on Myanmar to address the rights of Rohingyas, including their citizenship.
He said one of the international legal pathways to accountability and justice is through the International Criminal Court which can raise proceedings against individuals for "forced deportation" under Rome Statute.
Another is through the International Court of Justice with which Gambia, on behalf of the Organisation of Islamic Cooperation, filed a case against Myanmar under Genocide Convention, said the Foreign Secretary.
Haque made the remarks while delivering a public lecture on "Justice and Accountability for Rohingya" organised by the Centre for Peace and Justice (CPJ) of BRAC University at its auditorium.
With CPJ Executive Director Monzoor Hasan in the chair, the function was also addressed by Pro-Vice Chancellor of Brac University Prof M Tamim.
The Foreign Secretary said the ICC took up the suo moto case to punish the individuals in Myanmar responsible for committing crime against humanity by killing innocent Rohingyas.
He mentioned that the ICC will carry out its investigation about the ethnic cleansing in Myanmar under a memorandum of understanding (MoU) signed with Bangladesh.
The Foreign Secretary said Bangladesh will continue with bilateral approaches for the "safe and sustainable" return of the Rohingyas.
To that end, he said, Myanmar must create a conducive environment for the safe return of Rohingyas to their place of origin as the Rohingya crisis is a political one deeply rooted in that country.
The Foreign Secretary said Myanmar has to create the conducive environment by addressing the "root causes" inside its territory, ensure safety, security and livelihood, hold the perpetrators accountable and ensure civil and political rights which are fundamental freedoms.
Haque said Rakhine is rich in minerals and there are very a few countries which have not invested in business hubs being created there.
He also said Myanmar would come under serious pressure and it knows that its generals might be taken to The Hague.
Responding to a query, the Foreign Secretary said the ICJ is part of the UN system which has a vast implication on Myanmar as it is a member nation and the military generals responsible for the crime will have to face the prosecution with the international court. "Many generals who were responsible for massacre in Bosnia are now being tried in The Hague", he said, adding that generals in Myanmar were also warned about such consequences during talks with them.
BRAC University Pro-Vice Chancellor Prof Mohammad Tamim urged the government to make its initiatives more visible to people.
He apprehended that Bangladesh would face a difficult time with these displaced people.