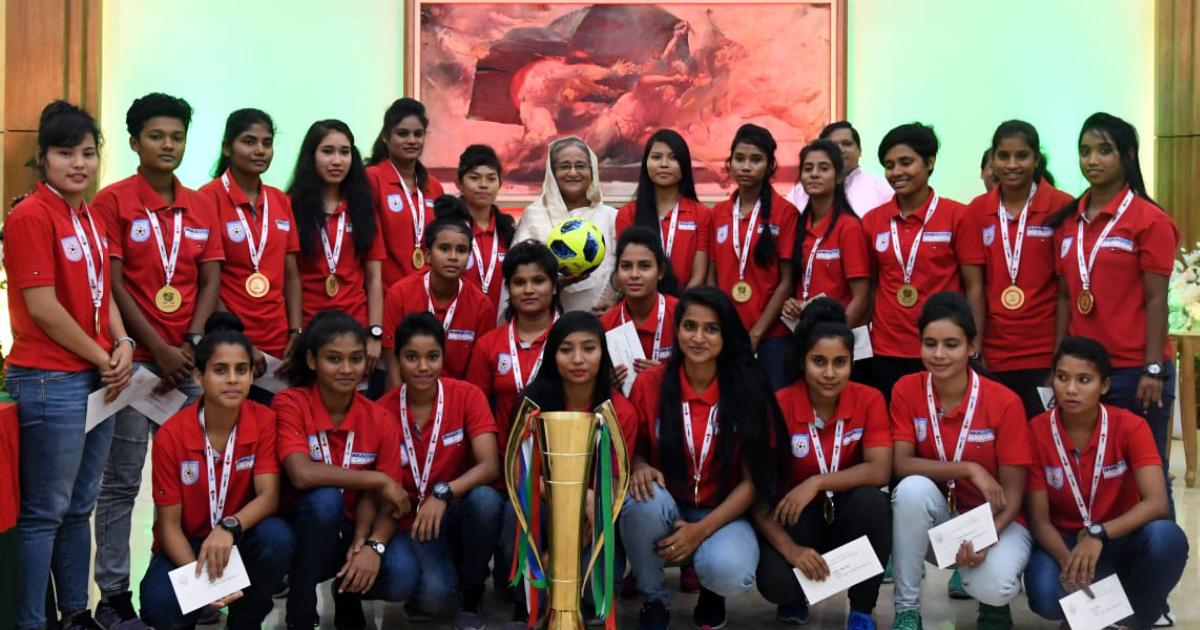 Prime Minister Sheikh Hasina on Thursday underscored the need for hunting talents from the grassroots level alongside urban areas for the development of the country's sports and games.
"It (Talent hunt) shouldn't be only urban or capital-centric. It's necessary to hunt talents from the very grassroots level in sports and games. If so, there'll be huge potential (to bring good results)," she said.
The Prime Minister said this while addressing a reception accorded to the players and staff of the National Under-19 Women's Football Team and National Under-16 Boys' Football Team for their recent successes in international tournaments.
The women team became joint champions with Laos in the Bangamata U-19 Women's International Gold Cup held in Dhaka from April 22 to May 3 last while the boys' team became unbeaten champions in the UEFA-assist U-16 development football tournament held in Dhaka from October 16 to 20, 2019.
The Prime Minister said her government is promoting local games and sports alongside the popular ones.
Coming to power in 1996, her government faced obstacles to introducing football for girls, she said.
Assuming office for the second time in 2009, Sheikh Hasina said, her government started the primary school-level football competition across the country. "Now, our girls are showing enough competence (in sports)," she said.
She said the inter-school competition is very essential for the development of football in the country. "Now, the inter-school competition has reached a certain stage," she said, adding that such competition has also started at the college level.
The Prime Minister said the government is now constructing a mini-stadium in every upazila for the development of sports.
She said her government is also promoting local games alongside the popular ones.
Sheikh Hasina said there are no enough playgrounds in the capital as there is a tendency to construct building in every open space.
She said her father, grandfather and brothers –Sheikh Kamal and Sheikh Jamal- used to play football. "Now our grandchildren play football," she said.
Extending her sincere thanks to the players and staff of the two teams, the Prime Minister said it is a matter of pride that now boys and girls are gaining successes not only in the country but also in the international arena.
She expressed the hope that Bangladeshi players will bring successes from the South Asian Games to be held in Nepal on December 1-10.
Later, the Prime Minister provided financial gifts to each player and staff of the two teams.
State Minister for Youth and Sports Zahid Ahsan Russel and Bangladesh Football Federation (BFF) President Kazi Salahuddin were, among others, present on the occasion.