Public hearing on hike proposals begins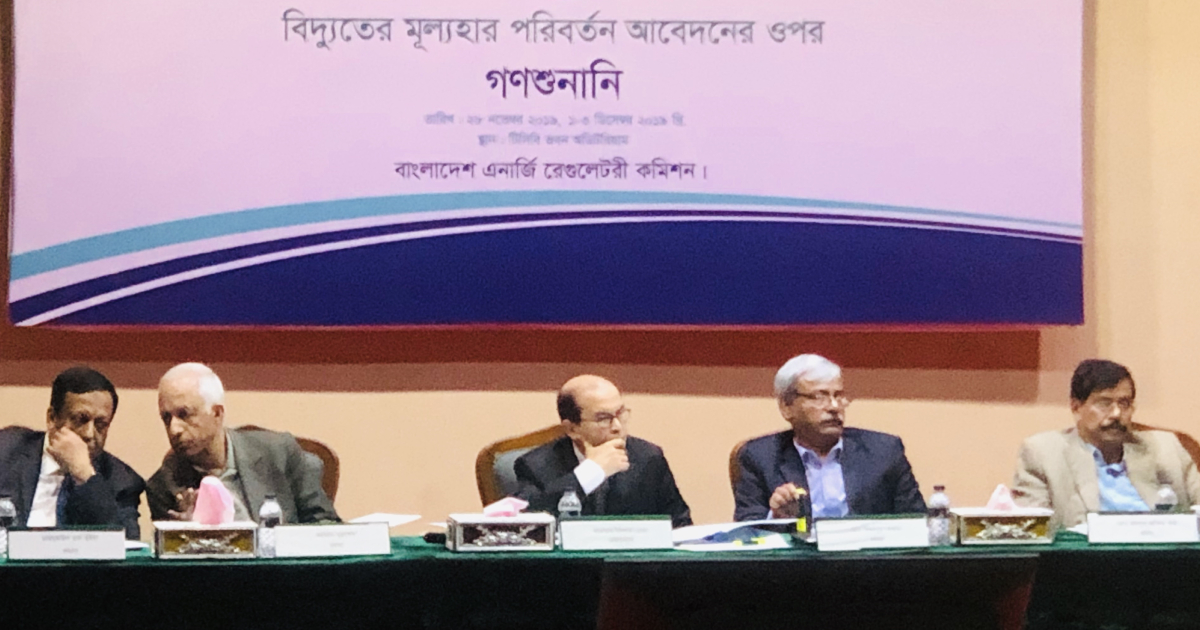 Bangladesh Energy Regulatory Commission (BERC) on Thursday started its 4-day public hearing on proposals for raising both bulk and retail electricity tariffs amid opposition by political parties, trade bodies and consumer right groups.
On the first day of the 4-day hearing at the Trading Corporation of Bangladesh (TCB) Auditorium in Kawranbazar in the city, state-owned Bangladesh Power Development Board (BPDB) placed its proposal to raise bulk power tariff to Tk 5.88 from the existing rate of Tk 4.84 per unit (each kilowatt hour) by Tk 1.04.
However, a BERC technical evaluation committee found that the BPDB's current calculated bulk price is Tk 4.77 per unit and as per this calculation, it recommend for a rise by Tk 0.93 per unit.
But the tariff will be set by the commission on completion of hearing and other relevant process.
Taking part in such hearing for the first time, Bangladesh Nationalist Party (BNP) leader Moazzem Hossain Alal the move to hike power tariff amid the soaring prices of essentials will create a burden on general people.
Consumers Association of Bangladesh (Cab) adviser Prof M Shamsul Alam claimed that if the current leakages and corruptions could be prevented  power tariff hike will not be required.
During the last public hearing, he alleged that Cab placed some 23 proposals to stop corruption and malpractices in power sector to reduce production cost. "Only of them has been implemented so far," he alleged.
Leader of Bangladesh Garment Manufacturers and Exporters Association (BGMEA) Anwar Hossain Chowdhury said if the power tariff is raised, the production cost in readymade garment sector will go up and Bangladesh will lose the global market.
Bangladesh Knitwear Manufacturers and Exporters Association (BKMEA) said the entire export sector will face further pressure in the global market competition if power tariff is hiked.
Bangladesh Communist Party leader Ruhin Hossain Prince said any further increase in power tariff will have a spillover effect on the economy when people are already experiencing excessive price hike in onion and rice.
Convener of Bangladesh Gano Sanghati Andolon Zonaid Saki said the power sector is also seemed to be controlled by business syndicate, which has link with ruling party leaders, he alleged.
He said the government has already paid Tk 55,000 crore to such syndicate in the name of capacity payment for power purchase.
Mentioning the name of BERC Member Abdul Aziz, who is facing a corruption charge in Barapukuria power plant's coal reserve issue in a case filed by the Anti-corruption commission (ACC), Bangladesh Labour Party president Dr Mustafizur Rahman Iran demand the commission not to allow any such person to sit in the regulating body to attend the public hearing.
The BERC held hearing on proposals placed Power Grid Company of Bangladesh (PGCB) to raise power transmission cost to Tk 0.42 from exiting Tk 0.27 per unit.
As per the schedule, Berc will hold hearing on the retail tariff hike proposal of BPDB in the morning session on December 1 and that of Northern Electricity Supply Company Ltd (Nesco) in the second session on the same day while hearing on the proposal of Dhaka Power Distribution Company Ltd (DPDC) will take place in the morning session and that of Dhaka Electric Supply Company Ltd (Desco) in the second session on December 2.
The hearing on retail tariff hike proposal of Bangladesh Rural Electrification Board (BREB) will be held in the morning session while discussion on the hike proposal of West Zone Power Distribution Company Ltd (WZPDC) will take place in the afternoon session on December 3.
Both the retail and bulk electricity tariffs were raised in November 2017 with effect from December 1 of the same year.