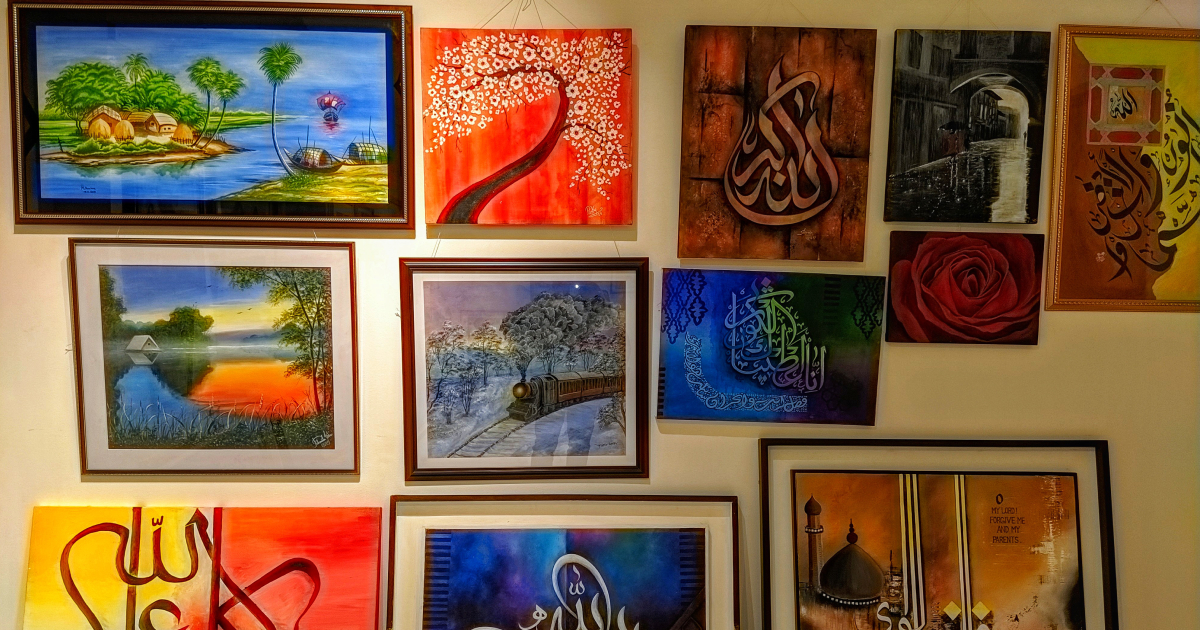 Obscure Artists of Bangladesh, a new platform of young, emerging artists kicked off a three-day national art exhibition Thursday at Gallery 27 in Dhanmondi – the name of the gallery derives from its location on the old Road no.27 (now no.16).
Inaugurated by world-renowned Bangladeshi calligrapher Mahbub Murshid as the chief guest, the exhibition features an exciting collection of artworks by a promising group of artists.
Hundreds of artworks spanning multiple genres from calligraphy to oil painting, acrylic painting, stone arts, tea-bag arts and drawings are part of the exhibition.
Applauding the initiative, Mahbub Murshid said "This event is a unique showcasing of amazing artworks including some unbelievably good calligraphies, done by promising artists. Some of them are not even professionals, but one cannot even guess that at first glance."
"Intending to provide an organised platform and inspiration to the obscure artists of Bangladesh, a Facebook group has been set up back in October and we called for submission from artists all over the country. The response we got in return has been unbelievable and overwhelming," Mahfuzur Rahman, the founder of the group, told UNB regarding the initiative.
"Our endeavour is to inspire them to move forward, and give them a platform they deserve to showcase their amazing talents and extraordinary creativity," he further said.
The participants spoke highly about the initiative, as well as the work done in coordinating their contributions by the organizers. One of the participating artists, Muhammad Alimul Islam, who has a regular job as a pharmacist and paints out of passion, told UNB: "The organizers are truly passionate about promoting our works, although we never really participated in exhibitions before. We are really happy to participate in this kind of national exhibition with other promising artists."
The founder and admins of 'Obscure Artists of Bangladesh' made the exhibition possible, with the enthusiastic participation of the group members, who sent in their contributions from all over the country.
The exhibition will remain open from 11am to 8pm on all three days before concluding on November 30.