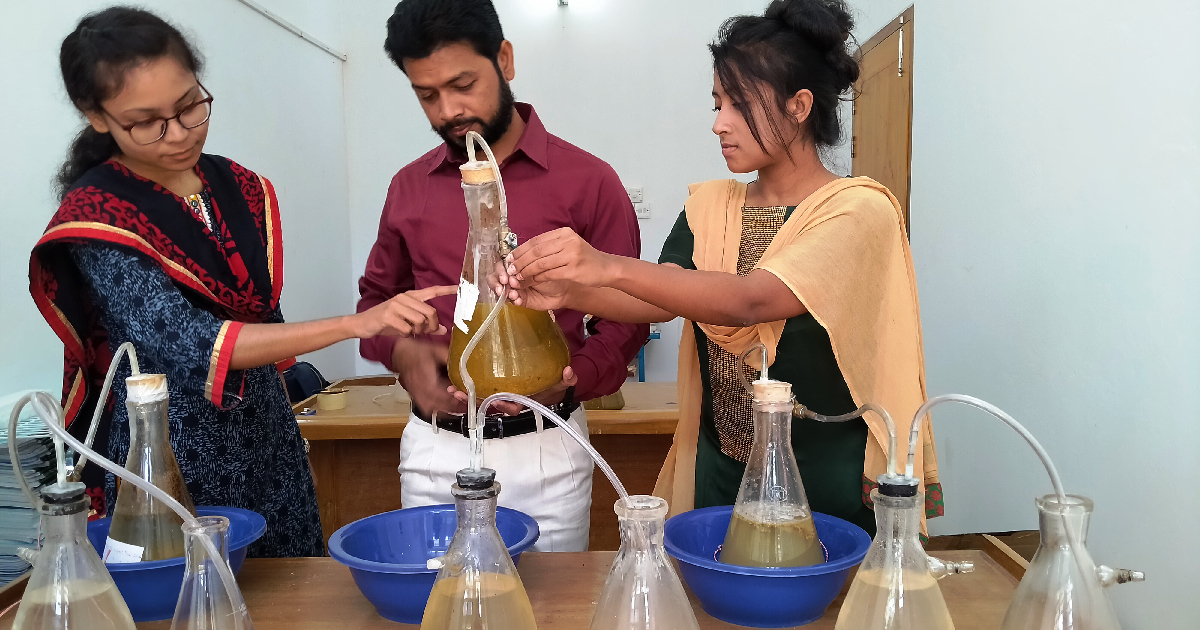 SAU Correspondent : Rural markets and roads are usually littered with wastes of tea, fish and cattle.  Now a team of researchers of Sylhet Agricultural University (SAU) has invented a method to produce biogas and fertiliser from those.
The three-member team, led by Dr Muhammad Rashed Al Mamun, associate professor and head of Farm Power and Machinery department of the university, held a successful demonstration of their invention recently.
The two other researchers are Shankharupa Dey and Jinat Jahan, two students of the department.
They said there is a huge possibility of producing biogas as well as fertiliser through a proper management of tea, fish and cattle wastes.
The researchers said huge wastes of tea, fish and cattle are produced in Bangladesh and for lack of proper management, these affect the environment greatly.
"These wastes produce huge methane which is more harmful than carbon dioxide greenhouse gas," said team leader Dr Rashed.
It is possible to produce 65 percent renewable energy using the wastes, he said, adding that fertiliser and fish feed can also be produced from imperishable waste after the production of fuel. "This is also very profitable."
Dr Rashed thinks wider waste management under government and private initiatives can open up a new horizon in the energy and electricity production in the country.
He said heavy dependence on fossil fuels is one of the main contributing factors behind global greenhouse gas emissions. This not only gives a rise to global temperatures but also seriously affects the air quality and human health. And the role of renewable energy in mitigating climate change is proven worldwide, he added.
Keeping this in mind, Dr Rashed said various initiatives are being taken across the world to ensure the use of renewable energy and as a renewable energy source, biogas is widely used in different countries.
"Our efforts are also to contribute to this end," he added.