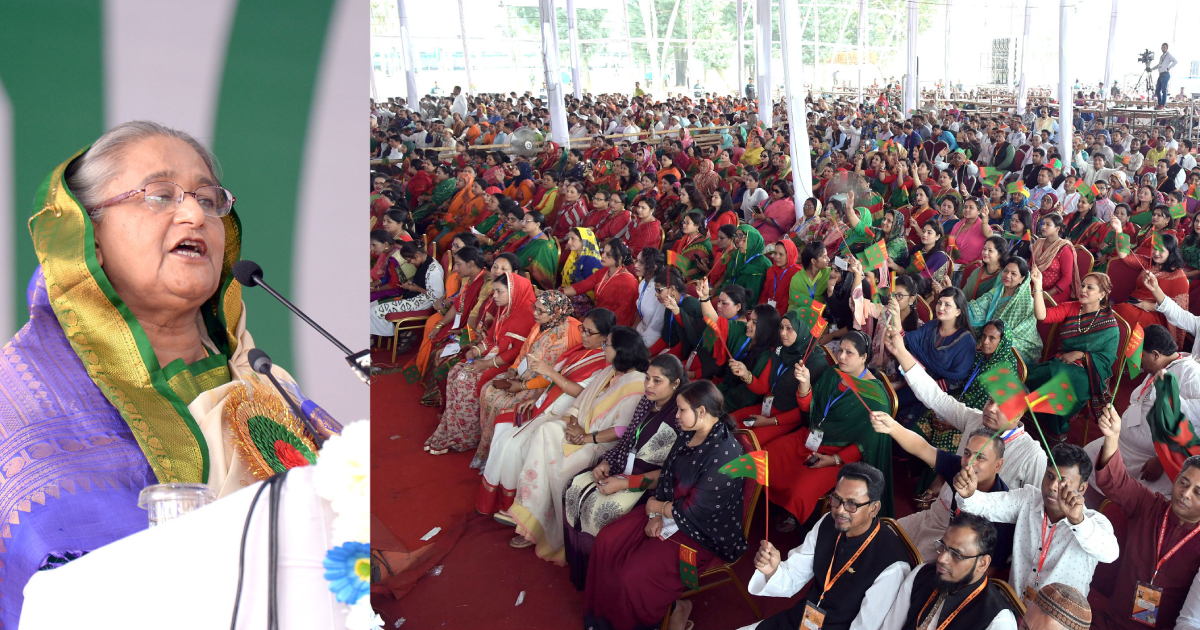 Prime Minister Sheikh Hasina on Saturday said many people are trying to give political colour to the conviction of BNP chairperson Khaleda Zia on graft charges.
"It's not a political case…it's completely a corruption case. But many want to give a political colour to it. We didn't file any case against her with any political motive," she said.
The Prime Minister was addressing the triennial council of Dhaka North and South City units of Bangladesh Awami League (AL).
Sheikh Hasina, also the AL president, opened the council as the chief guest by hoisting the national flag as well as releasing pigeons and balloons at the historic Suhrawardy Udyan in the city in the morning.
About Khaleda's case, the Prime Minister said money came for orphans but they did not get it as it was deposited in Khaleda Zia's account.
She said the army-backed caretaker government filed the case against her for embezzlement of the orphans' money. "She is now in jail being convicted in that case."
Criticising the BNP leaders and activists for vandalising buses in front of the High Court recently, the Prime Minister said they did it suddenly out of nothing. "This is not new by BNP men…they've the habit of doing such things," she said.
Referring to the violence unleashed by BNP in 2013, 2014 and 2015, Hasina said the people of the country and their property came under repeated attacks by BNP activists.
The Prime Minister said this is fact that the country progressed during Awami League's rule and it is moving forward and will do so.
Mentioning the torture and repressive acts on AL men and general people in the past during BNP regimes, she said her government's goal is to change the fate of people and improve their lifestyle protecting them from the hands of those who resort to terrorist acts, torture and killing and sit on the shoulders of people as a curse.
AL General Secretary and Road Transport and Bridges Minister Obaidul Quader and AL Dhaka North City President AKM Rahmatullah also spoke at the council presided over by Dhaka South City AL president Haji Abul Hasnat.
Dhaka North City AL General Secretary Sadeq Khan placed the report on AL's Dhaka city, while Dhaka South City AL general secretary Shahe Alam Murad moderated it.
Dhaka South City Corporation Mayor Sayeed Khokon and Dhaka North City Corporation Mayor Atiqul Islam were, among others, present.
The last council of undivided Dhaka City Awami League was held on December 27 in 2012.