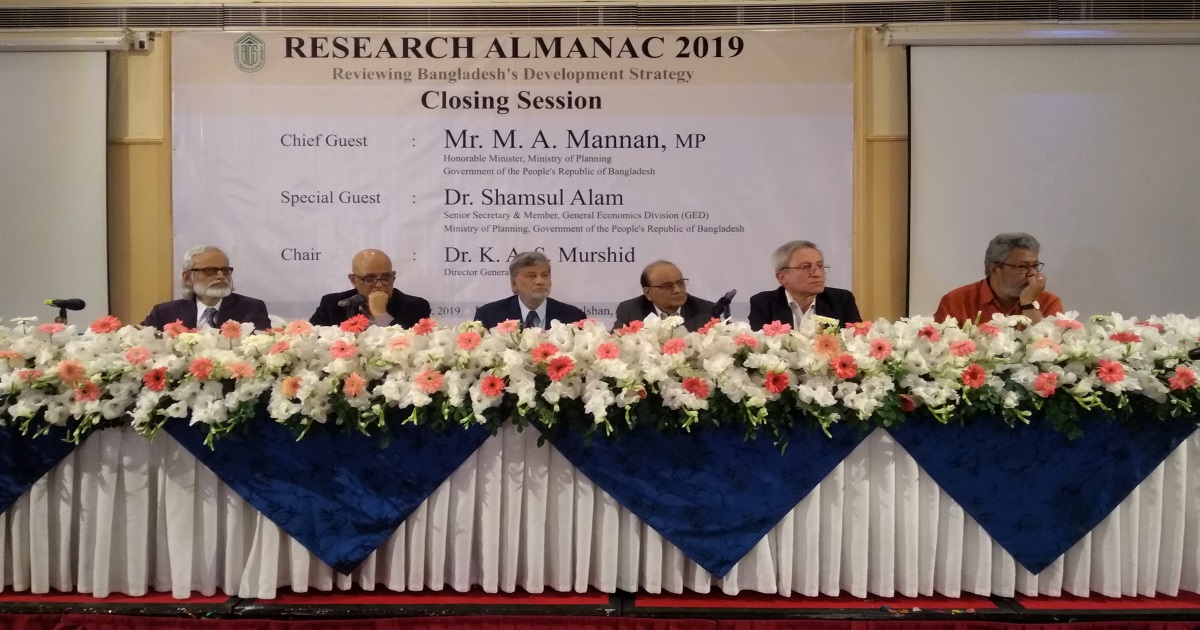 Planning Minister MA Mannan on Monday voiced concern over the growing disparity in different sectors, saying it can harm the wave of economic growth.
He made the comments while addressing the closing session of the two-day Research Almanac 2019 organised by Bangladesh Institution of Development Studies (BIDS) at a city hotel.
Describing agriculture as the backbone of Bangladesh's economy, he said the government is working to improve the sector. "We'll make compromise to give subsidy to the agriculture sector," he said.
Mannan also said Bangladesh's position in the ease of doing business index is very poor.
He, however, said the government is working to improve the index creating better business environment.
Acknowledging that there some loopholes in different sectors, the minister sought suggestions from experts to plug those.
Dr Zahid Hussain, former lead economist of World Bank, said Bangladesh is expected to achieve the sustainable development goals (SDGs) by 2030 and become a rich country by 2041.
"There're two separate elements such as growth and governance. Growth is a wheel while governance a driver. We have to improve the infrastructure, including transportation, information, industries, agriculture and human resources, to this end," he added.
Dr Zahid underscored the need for good governance to continue the growth.
He said new window of development will open in the future if skilled manpower and infrastructure can be created through reforms. "Besides, intellectual-based competition is needed here."
The economist, however, identified some challenges such as climate change, vulnerable population, soil, air and water pollution Bangladesh is currently facing.
Dr Rizwanul Islam, former special adviser (Eemployment) of International Labour Organization (ILO), said there are challenges, including increasing disparity between rich and poor and its impact on the job market.
Bangladesh faces challenge for the Fourth Industrial Revolution (4IR) and it should devise strategy on how to adopt the technology, he said.
Describing investment as the growth's main driving force, Dr Rizwanul underlined the need for increasing individual investment.
Dr KAS Murshid, director general of the BIDS, presided over the function.