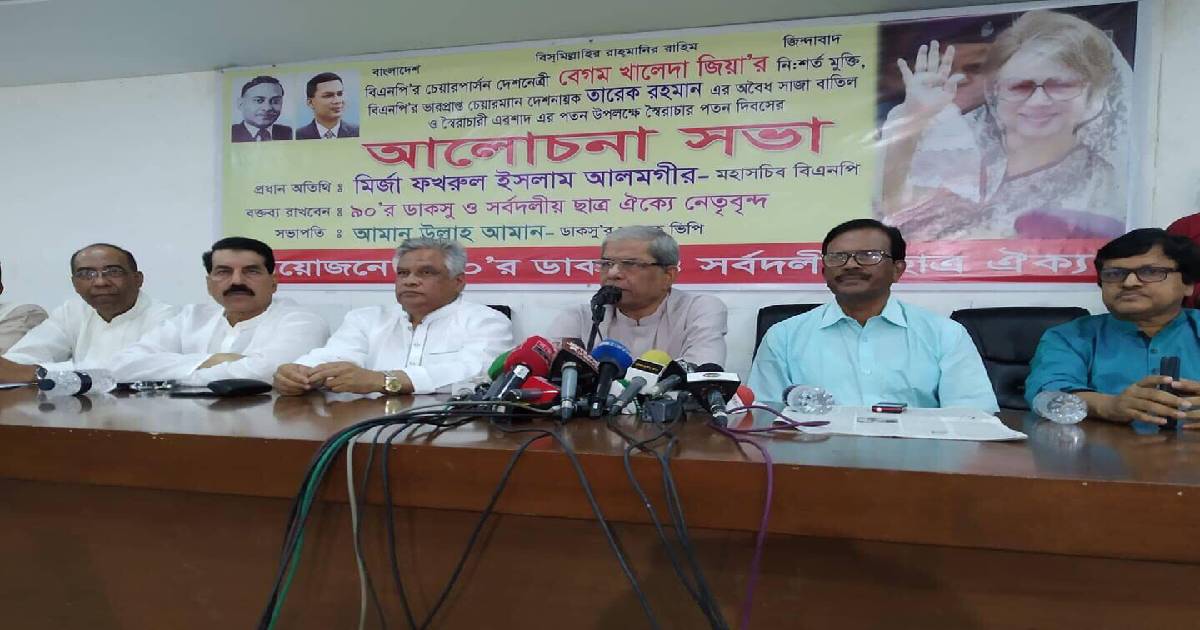 "It's said the situation in the High Court and Supreme Court (on Thursday) unprecedented. We also think such a decision (of the Appellate Division) is unprecedented," said BNP secretary general Mirza Fakhrul Islam Alamgir.
Speaking at a discussion, he further said, "A former prime minister, whose condition is critical, filed a petition for bail, but the court had given time those who defied its order instead of giving importance to the petition. It's unfortunate for the nation and the country."
Pro-BNP student leaders of Dhaka University Central Students Union (Ducsu) and All- Party Students Unity (Apsu) of the 90s arranged the programme at the Jatiya Press Club demanding the release of BNP chairperson Khaleda Zia and marking the fall of autocratic ruler HM Ershad in 1990.
Fakhrul said the government and the Bangabandhu Sheikh Mujib Medical University (BSMMU) VC committed the contempt of court offence as they did not submit the report on Khaleda's health condition before the court as per its directives. "We respect the Chief Justice and the judiciary. But we get surprised when action is not taken (for the contempt of court offence)."
On Thursday, the Appellate Division deferred until December 12 the hearing on Khaleda's bail petition in Zia Charitable Trust graft case.
The court also asked the medical board, formed by the Bangabandhu Sheikh Mujib Medical University (BSMMU) to treat Khaleda Zia, to submit a report on her health condition before it within December 12, as they could not present the report today as per the directive given on November 28.
Fakhrul said they have got aggrieved and angry as the Appellate Division did not give importance to their chairperson's petition and take action against those who violated its directives.
He alleged that the Attorney General has been working to protect the interests of the ruling party instead of the state.
The BNP leader said Khaleda has the constitutional right to get bail when she is very sick. "Doctors said she may lose her life if she's not immediately provided proper treatment. "That's why we urged them to take steps for her treatment by freeing her from jail on humanitarian ground."
Referring to the Prime Minister's remark that Khaleda is fine, he said how the BSMMU VC dare say the BNP chief is ill when the Chief Executive of the government says she is not ill.
Fakhrul regretted that the media forgot December 6 is the 'Fall of Autocracy Day' as most newspapers did not highlight the significance of the day. "It seems to me that the media now think democracy is no longer necessary. It's a matter of wonder."
He also recalled Khaleda Zia's outstanding and uncompromising role in the anti-autocracy movement and restoration of democracy in 1990 by removing the despotic ruler Ershad.