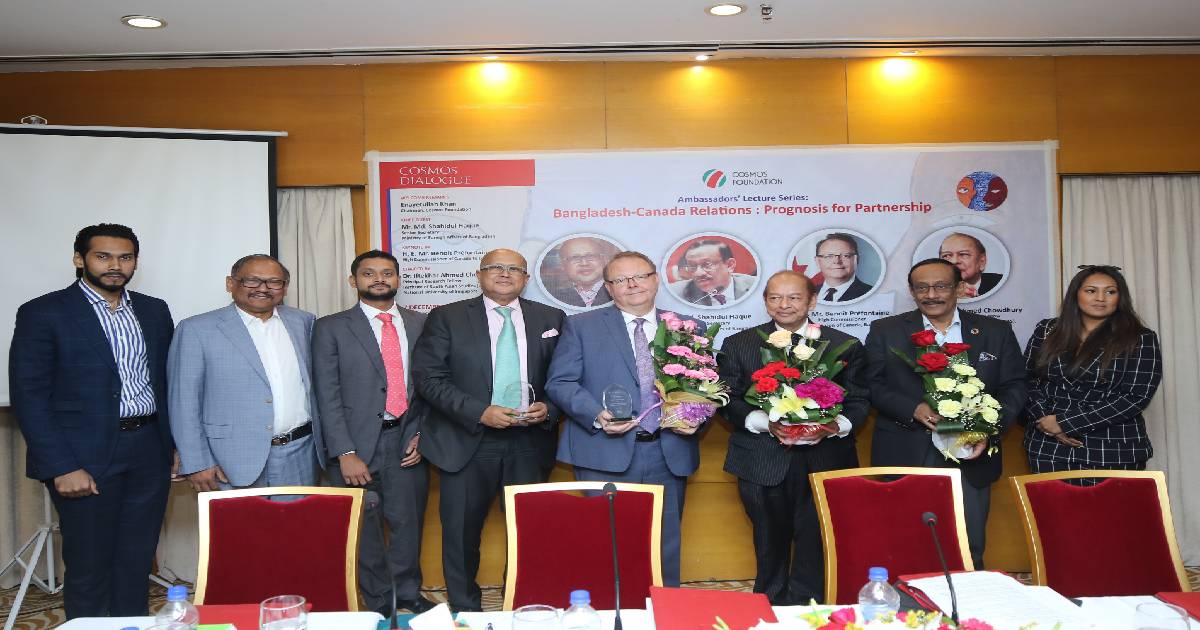 He identified some of the challenges but said that "will not deter" Canada from approaching the decade ahead with confidence on everything that matters for keeping two countries peaceful and prosperous.
The High Commissioner was addressing a symposium titled "Bangladesh-Canada Relations: Prognosis for Partnership" held in the city.
Foreign Secretary (Senior Secretary) Md Shahidul Haque who spoke at the event as the chief guest termed Bangladesh-Canada relations a trouble-free one which is growing on all fronts.
He said Bangladesh is a "significant force" in South Asia and explained why Bangladesh matters today amid geopolitical realities and global initiatives like Indo Pacific Strategy, Belt and Road Initiative (BRI) and Eurasia.            A distinguished panel of foreign affairs experts attended the symposium to assess the relationship between Bangladesh and Canada in the present context and identify the challenges and opportunities for the future.
The Rohingya issue also  came up in a big way on justice and accountability front during the discussion.
Cosmos Foundation, the philanthropic arm of Cosmos Group, organised the symposium as part of its Ambassador's Lecture Series.
Chairman of Cosmos Foundation Enayetullah Khan delivered the welcome speech at the symposium chaired by Dr Iftekhar Ahmed Chowdhury, the Principal Research Fellow at the Institute of South Asian Studies, National University of Singapore, and former Foreign Affairs Adviser to Bangladesh's previous caretaker government.
Canada's commercial relationship with Bangladesh has grown significantly over the last 14 years and the value of bilateral merchandise trade has more than tripled from $600.5 million in 2004 to over $2.4 billion Canadian dollars in 2018, according to Canadian High Commission in Dhaka.
Canada's response to Rohingya crisis recognises  that the current situation does not have an immediate solution and will require a sustained engagement for years to come.
The Canadian High Commissioner said he expects a continued growth in commercial relationship.
"Bangladesh's economic growth and the need to industrialise, build infrastructure and create jobs make for a compelling case and Canada's business community has started to pay attention," he said.
The High Commissioner said the commercial relations could become a dominant aspect of relationship, gradually displacing development cooperation as Canada's main activity in Bangladesh.
Canadian exports to Bangladesh have exceeded $1 billion dollars in 2019, after just 10 months, which is is a phenomenal increase and an all-time record.
Bangladesh exports to Canada for January-October already exceed last year's total, setting a new record.
The High Commissioner said trade should diversify to more sectors and products and that in addition to trade, they can do better in areas such as investment, infrastructure and science and technology collaboration.
One other factor which will help is the change of Canada's travel advisory for Bangladesh, he said.
A few weeks ago the recommendation to avoid non-essential travel to Bangladesh was removed.
The High Commissioner said more Canadians will now be able to visit Bangladesh or come here to work.
He said Canadian businesses do have concerns regarding reports of human rights violations, corruption, shrinking space for civil society, lack of freedom of expression. "This is something we're raising with government authorities and with Chambers of Commerce."
The High Commissioner said Canada's popularity is increasing as a "study destination of choice" for Bangladeshi families.
He said the number of Bangladeshi students who chose to study in Canada in 2018 reached 6,500, an increase of more than 150% from 2014.
"This is important because when these students return to Bangladesh, often with work experience and sometimes a Canadian citizenship, they become ideal partners for Canadian companies seeking partners or employees," he said.
The High Commissioner said they definitely want a large Bangladesh delegation to attend and hope this will become a new area of focus for the Bangladesh-Canada relationship because a free and vibrant media encourages creativity, inspires compassion, teaches, and helps build the citizens of tomorrow.
"Promoting media freedom is a key component of Canada's advocacy to strengthen the rules-based international order, democratic resilience, and respect for the right to freedom of opinion and expression," he said.