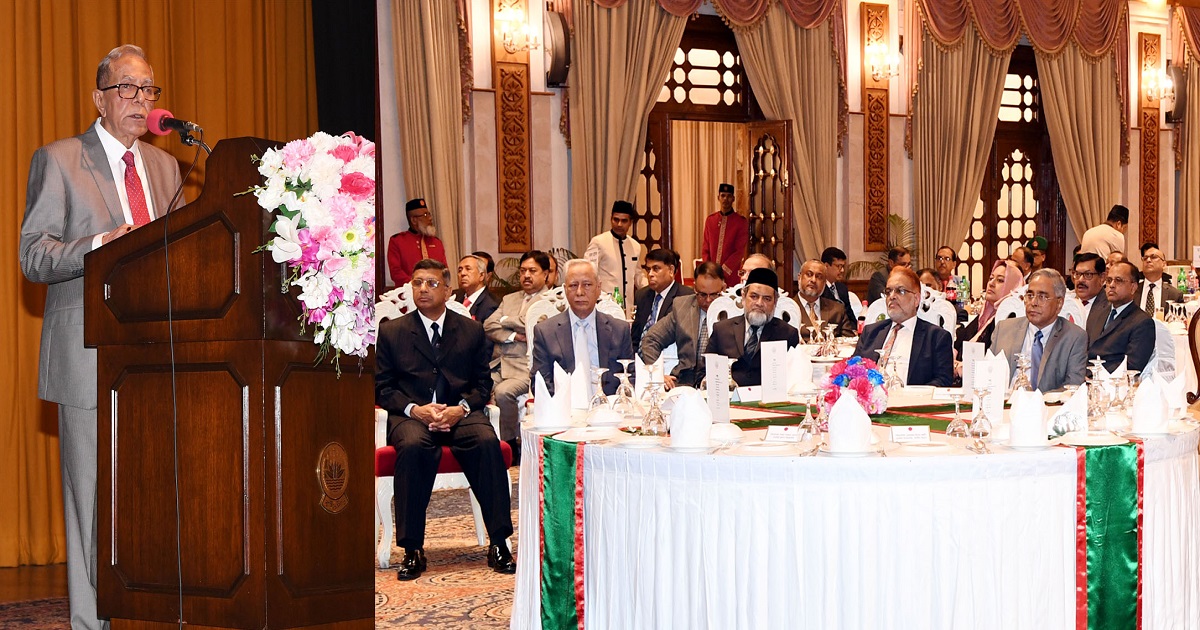 President Abdul Hamid on Saturday urged the three organs of the state to perform their duties maintaining a balance.
"Although legislative, judiciary and executive branches perform separately, they're inter-connected. They aren't rivals to each other but supplementary. So, you should perform your duties maintaining a balance among each other," he said.
The President was addressing a pre-dinner meeting with the Chief Justice and other judges of the High Court and Appellate divisions of the Supreme Court and district courts at the Darbar Hall of Bangabhaban.
He also called the benches and bars to work in a coordinated way to fulfill people's expectations from the judiciary and officials concerned to be aware of any untoward incident in court.
"Legal profession is a very dignified profession indeed … it's seen some respectable lawyers in lower and higher courts hampering trial proceedings by shouting and vandalising public property over verdicts. But it can't be expected in any way," Abdul Hamid said.
He urged lawyers to uphold the tradition and dignity of the legal profession.
Terming the judiciary one of the important organs of the state, the President said its role is very important in promoting democracy, the rule of law and protection of human rights.
The judiciary, in collaboration with other institutions of the state, plays the role of saviour in upholding the rule of law, he added.
Abdul Hamid said the then dictator passed the infamous Indemnity Ordinance after the assassination of Father of the Nation Bangabandhu Sheikh Mujibur Rahman on August 15, 1975 so that the brutal murder cannot be prosecuted. "As a result, the culture of impunity was introduced in the country. After a long time, however, the law was abolished and the perpetrators of Bangabandhu killing were finally brought to justice and the rule of law has been established," he said.
He said dictators, after 1975, had tried to legitimise their illegal activities by passing the 5th and 8th amendments to the Constitution. "But the Supreme Court of Bangladesh established the democratic rights of the country's people declaring those amendments invalid."
The President also said the nation's confidence in the judiciary has increased due to the speedy trial of the murders of the Father of the Nation and four national leaders, and war criminals. "Proverbs like 'justice delayed is justice denied' and 'voice of justice is weeping silently in the wilderness' have been proved wrong to some extent today," he added.
Noting that the judiciary is the safeguard of the Constitution and the law, he said in addition to performing their duties, the Supreme Court judges have the authority to provide opinions on matters of public importance. "We also want the judiciary to act as a safeguard in protecting the fundamental rights of the people," he said.
Chief Justice Syed Mahmud Hossain and Law Minister Anisul Huq also spoke on the occasion.
Secretaries concerned to the President were also present at the programme.