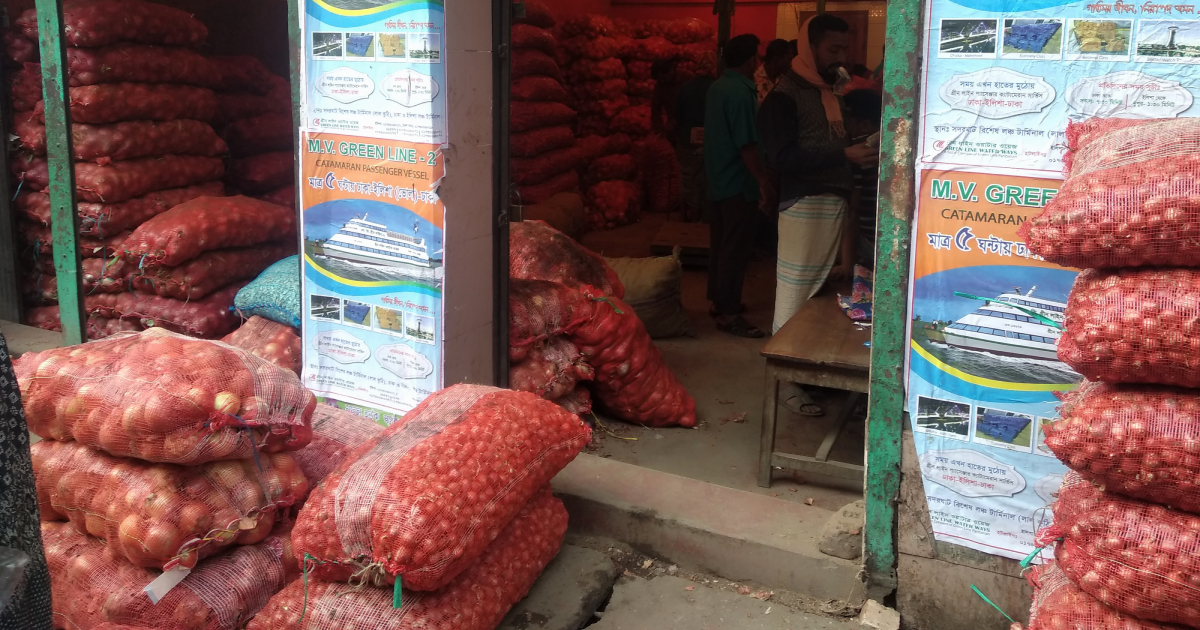 Although the kitchen markets in the capital have seen the huge supply of both the imported and newly-harvested onions in the last few days, the prices of the cooking ingredient is still too high.
Visiting a number of kitchen markets in the city, the UNB correspondent found the local variety of onion being sold at Tk 220-250 per kg while the imported one at Tk 100-180 at the retail market on Saturday.
According to the Ministry of Commerce, 4,159 tonnes of onion were imported through different ports on Thursday alone.
It also said the import will continue until the supply of onion and its prices become normal.
Last week, Commerce Minister Tipu Munshi also said the onion price will become stable within the first week of December when imported and local onions hit the market. "Huge imported onions are coming to markets. The onion will be available in market within the next 10 days. Onion costs Tk 32 per kg to reach the port. It'll be sold at maximum Tk 60 per kg. Besides, local onion will hit the market during this time," he had said.
However, there is no reflection of the huge import and the minister's comments on the market as onions are still selling at higher prices.
Meanwhile, traders claimed that the onion prices are gradually falling.
According to state-owned Trading Corporation of Bangladesh (TCB), imported onion was selling at Tk 90-210 per kg while the local one at Tk 240-250 in the city kitchen markets.
Yusuf Ahmed, driver of a private firm executive, said he bought one kg of local onion for his employer at Tk 250 from Shantinagar Kitchen Market on Saturday.
Debashis Biswas, a resident of old Dhaka, said he bought one kg of Burmese onion at Tk 190 from a Bangshal shop.
He alleged that the government has completely failed to control the onion market. "There're huge onions in stock but traders are not selling those in lower prices. How do the middle- and lower-income people buy onion if the prices are so high?"
Arafat Mia, a retailer at Najira Bazar of old Dhaka, said they have to buy onion still at much higher prices from wholesale markets although the prices somewhat came down compared to the last week.
"Today we bought Chinese onion at Tk 70 kg while the Burmese one at Tk 150, and the newly-harvested local variety at Tk 180 from a wholesale market. We're selling onion adding a profit of Tk 10-12 per kg," Arafat said.
He, however, said better quality local onion is selling at Tk 220 a kg.
Almas Hossain, a stockist at Shyambazar, said they were selling Chinese variety of onion at Tk 65-70 per kg while the Burmese one at Tk 120-180, Egyptian one at Tk 100-110 and newly-harvested local variety at Tk 150 and old local variety at Tk 200 on Saturday.
Mohammad Hafiz Uddin, an importer at the market, claimed that the onion prices are gradually falling. "It'll further come down and the market will be stable within one or one and a half months."
Bolai Kumar Poddar, proprietor of Grameen Banijjaloy at Khatunganj of Chattogram which stocks onion, told UNB that they were selling Chinese onion at Tk 30-60 and Burmese one at Tk 140-155 a kg. "The onion price is slowly falling. It'll come down further," he said.
The price of local onion price shot up as high as to Tk 270 per kg in the last week of November.