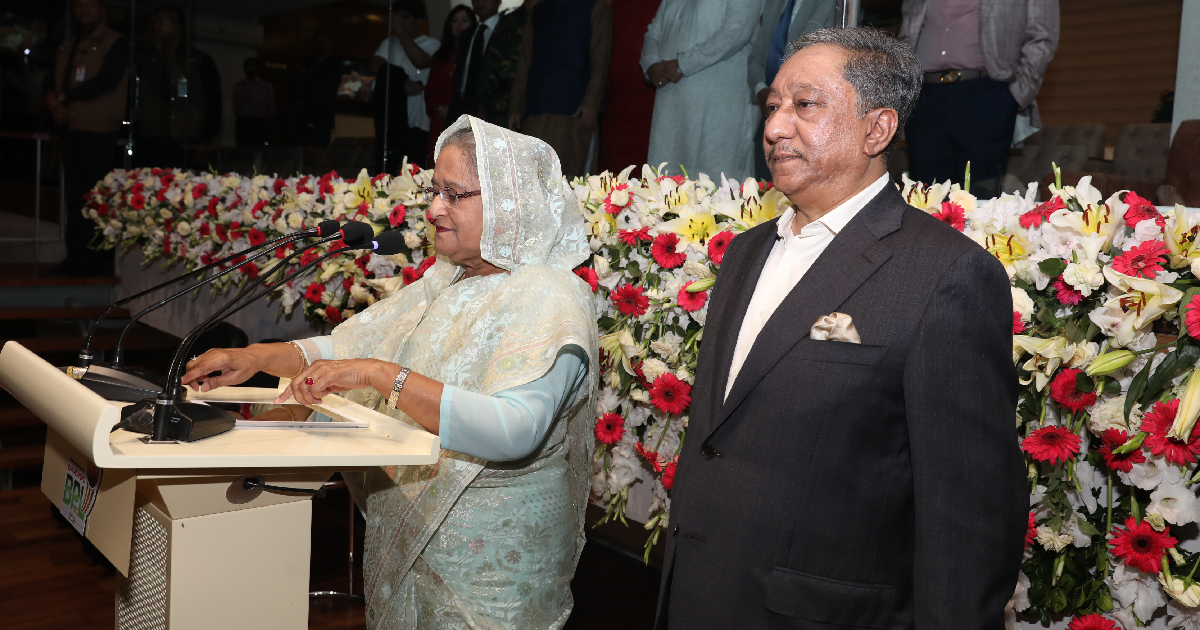 Prime Minister Sheikh Hasina wished for the competition's 'grand success' as she inaugurated the special edition of the Bangladesh Premier League (BPL), rebranded as Bangabandhu BPL to pay tribute to the Father of the Nation Bangabandhu Sheikh Mujibur Rahman in his hundredth birth anniversary year, on Sunday evening at the Sher-e-Bangla National Cricket Stadium.
The Bangabandhu BPL proper will begin on Wednesday (December 11) with Chattogram Challengers taking on Sylhet Thunder at the same venue.
A total of 46 matches will be played in the event across three venues in the country, and a total of seven teams will fight for the title.

The day's opening programme started at 6pm with the song 'Dak Diyachen Doyal Amare' by Moidul Islam Khan 'd Rockstar' Shuvo. It was late by 35 minutes as the original starting time was at 5:25. After Shuvo, Reshmi Mirza took the stage.
Rockstar James took the stage at 6:40pm and started his performance with the song 'Sultana Bibiyana'. Right after the first song, Prime Minister came to inaugurate Bangabandhu BPL at 6:50. Three minutes later, Sheikh Hasina announced the inauguration of BPL.
"I am hoping a grand success of Bangabandhu BPL this year. With thanks to all who came here tonight I am inaugurating the event," Hasina said while inaugurating the event.
Right after the official inauguration, James resumed his musical performance and sang 'Ma', 'Chal Chale' and 'Taray Taray Rotiye Dibo' respectively.
After James, Indian singer Sonu Nigam took the stage at 7:40pm. He has two special songs- 'Dhono Dhanne Pushpe Bhora' and 'Ekti Mujiburer Theke'- to represent to the prime minister as the singer stated in the event.
Sonu Nigam performed for an hour before Kailash Kher took the stage for a few songs. After that, spectators witnessed the performance of Bollywood stars Salman Khan and Katrina Kaif.
Before the last performance, Salman and Katrina spoke to the spectators. They both hailed the prime minister and Bangabandhu and congratulated Bangladesh on his 100th birth anniversary. At the same time, Salman remembered the name of the National Poet Kazi Nazrul Islam,  on the specific instructions of his father, Selim Khan, who he said was a big Nazrul fan.
The grand opening of Bangabandhu BPL and concert came to an end at 10:50pm with a duet performance by Salman and Katrina.