Archers clinch day's all six gold medals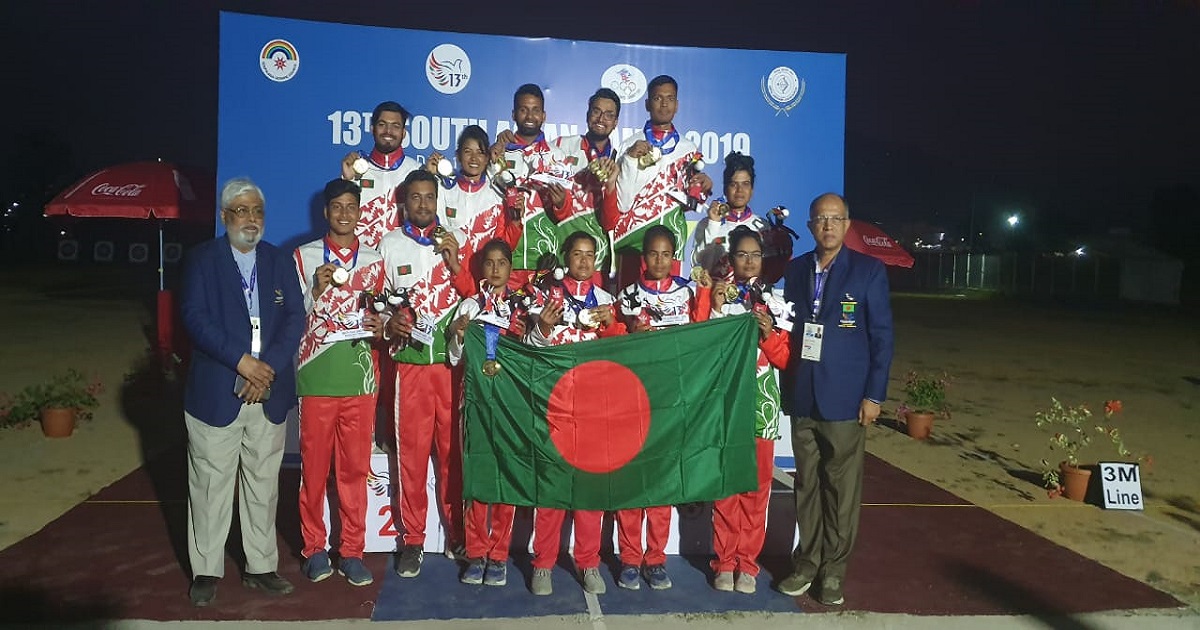 The Bangladeshi contingent at the ongoing 13th South Asian Games has already created history securing a record haul of gold medals for the country in an edition of the regional games held outside Bangladesh.
Bangladesh's haul was buoyed by the country's archers, who bagged all six gold medals up for grabs in the discipline on Sunday at Pokhara Stadium, Nepal, pushing the country's total up to 14 in the current edition.
Previously, the most gold medals Bangladesh won in an edition of the SAG held outside Bangladesh was 7, in the Madras Games in 1995.
Overall, Bangladesh's best performance at the SAG remains the 18 gold medals in 2010, when it was held in Dhaka.
Bangladeshi archers brought the glory for the country as they clinched all the six team gold medals—men's recurve, women's recurve, mixed recurve, compound men's, compound women's and compound mixed – up for grabs on Sunday.
The achievement was even more remarkable considering Bangladesh never won gold previously in the South Asian Games. Their previous best performance in the SA Games Archery was the three silver medals in Guwahati in 2016.
Apart from the day's six gold medals in Archery, the Bangladesh women's cricket team also clinched their first-ever gold medal in the history of the competition beating Sri Lanka.
Bangladesh men's recurve team comprising of Mohammad Ruman Shana, Mohammad Tamimul Islam and Hakim Ahmed Rubel clinched the day's first gold medal in the men's recurve team of archery beating Ravien Kavisha Dalpatadu, Sajeev De Silva and Kumara Herath of Sri Lanka by 5-3 sets in the final.
Bangladesh women's recurve team comprising of Eti Khatun, Mehnaz Aktar Monira and Beauty Roy beat Thisari Madushika Silva, Rehana Tayabally and Malsha Dilhani of Sri Lanka in the women's recurve team event final by 6-0 sets points to bag the 2nd gold for Bangladesh on the day.
Thereafter Bangladesh recurve mixed team comprising Mohammad Ruman Shana and Eti Khatun beat Sonam Dema and Kinley Tshering of Bhutan by 6-2 sets in the final for the third gold.
Bangladesh also continued their success in the compound team events.
The compound men's team comprising Md Sohel Rana, Ashim Kumar Das and Mohammad Ashikuzzaman secured the gold beating Phuntsho Wangdi, Tandin, Dorji and Karma Sherab of Bhutan 225-214 in men's compound team event final.
Bangladesh women's compound team comprising of Suma Bishwash, Susmita Banik and Shyamoli Roy bagged gold beating Anuradha Karunarante, Harshani Shalika  and Damayanthi Thakshila of Sri Lanka 226-215 in the women's compound team final.
Bangladesh compound mixed team comprising of Sohel Rana and Susmita Banik clinched the day's last gold beating Lmayung Rai and Sanatah Malla of Nepal 148-140 scores in the compound mixed team final.
Bangladeshi archers will also battle for the gold in the remaining four events– men's recurve singles, women's recurve singles. men's compound singles and women's compound singles on Monday.
Earlier on Saturday, Bangladeshi athletes earned three more gold medals — two in weightlifting and one in fencing — on the 7th day of the 10-day seven-nation 13th Asian Games in Nepal.
Famed lifters Mabia Akhter Simanta and Jiarul Islam bagged two gold medals in weightlifting events of the games in Nepalese tourist town of Pokhara while Fatema Mujib clinched the first-ever gold medal for Bangladesh in women's fencing at Kirtipur Covered Hall in Nepalese capital of Kathmandu.
Bangladesh's athletes also clinched three gold medals in kumite events of karate of the 13th South Asian Games on Tuesday apart from Dipu Chakma's gold in taekwondo on Monday.