Suu Kyi's moral degradation saddens Dr Momen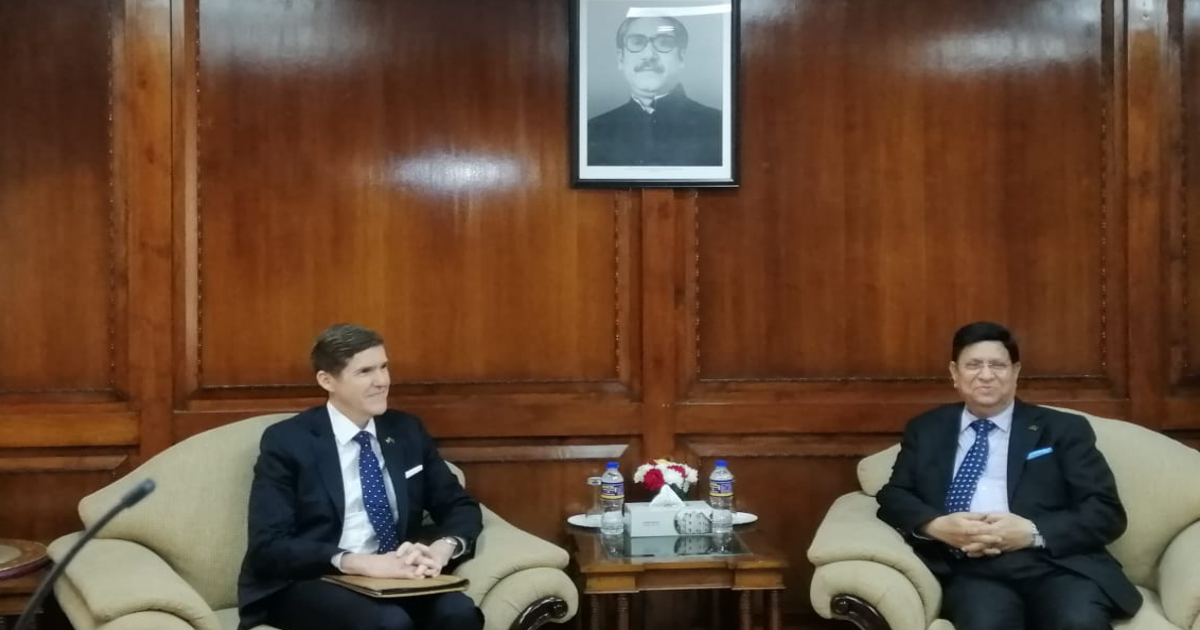 Bangladesh and the United States are expecting good results on accountability front as the second day hearing on genocide by Myanmar against Rohingyas began at the International Court of Justice (ICJ) on Wednesday.
"We feel proud that a country like The Gambia came forward with the case. Yesterday's hearing was a good one," Foreign Minister Dr AK Abdul Momen told reporters after two separate meetings with US Ambassador Earl R Miller and Japanese Ambassador to Dhaka Naoki Ito at the Ministry of Foreign Affairs.
Asked about US' feedback on the ICJ hearing, the Foreign Minister said the US Ambassador also hoped that they will have a good result and they remain engaged.
Ambassador Miller said the United States supports justice for victims and accountability for the perpetrators of serious abuses as important element of Myanmar's ongoing democratic transition.
"To date, there has yet to be any meaningful accountability for the perpetrators of the horrific abuses in northern Rakhine State that led to fleeing of more than 740,000 Rohingya to Bangladesh," he said.
Commenting on Suu Kyi's role, Dr Momen said it is sad to see her current role and mentioned that he demonstrated on the streets several times demanding her release from jail in the past. "She was an icon of democracy and human rights. I felt hurt seeing her moral degradation."
At the ICJ, Suu Kyi on Wednesday claimed Muslims are not a party to this conflict, but may, like other civilians in the conflict area, be affected by security measures that are in place. "We pray to the Court to refrain from taking any action that might aggravate the ongoing armed conflict and peace and security in Rakhine."
The Foreign Minister referred the joint statement issued by Nobel peace laureates who demanded that Myanmar's State Counselor Aung San Suu Kyi, along with her army commanders, be held criminally accountable for crimes committed.
"As Nobel Peace laureates, we call on Aung San Suu Kyi, a Nobel Peace Prize recipient, to publicly acknowledge the crimes, including genocide, committed against the Rohingya," said the Nobel peace laureates in a joint statement.
The Foreign Minister said they firstly want Rohingyas go back to their place of origin in Rakhine State and live their lives peacefully.
He also said accountability and justice need to be ensured so that similar crimes against Rohingyas do not take place again.
The Foreign Minister hoped that Suu Kyi will realise the fact.
Impunity Must Stop
Talking to reporters, the US Ambassador shared the fresh sanctions imposed on four top current and former Myanmar military leaders.
On Tuesday, the United States took fresh action against 18 individuals, including the Myanmar Army chief, for their roles in atrocities and other abuses.
The US Department of the Treasury's Office of Foreign Assets Control (OFAC) came up with the sanctions.
"This brings to nine the number of Burmese [Myanmar] security force members, plus two units, who have been sanctioned by the United States since 2017 for serious human rights abuses," said the US Ambassador.
He said this action builds on recent designations made in July and imposes targeted financial sanctions on these four senior military leaders.
The US envoy said the elements of the Myanmar military have committed serious human rights abuses against members of ethnic minority groups across Myanmar.
Such abuses and the continuing impunity must stop for Myanmar to transition to a more secure, stable, democratic, peaceful and prosperous nation, he said.
"Burma's [Myanmar's] military must address the climate of impunity and cease abuses and violations of universally accepted human rights. The United States prioritizes the protection of fundamental freedoms and human rights as a key part of our vision for a free and open Indo-Pacific, recognising them as integral to US foreign policy and national security interests and in line with US values," Miller said.
He said such human rights abuse undermines the ability to realise the vision for a free and open Indo-Pacific that they share with ASEAN and other Indo-Pacific partners.
The US envoy said as the world recognised International Human Rights Day, the United States continues doing its part to promote accountability by remaining committed to the American ideals underpinning the "Global Magnitsky" programme.
"We commend the courageous work of civil society and all of you, the journalists, who play an important role in exposing human rights abuse and corruption and in holding public officials accountable," he said adding, "Together, the US envoy said, they must work to ensure those who have committed such acts are cut off from the benefits of access to our financial systems and our shores."