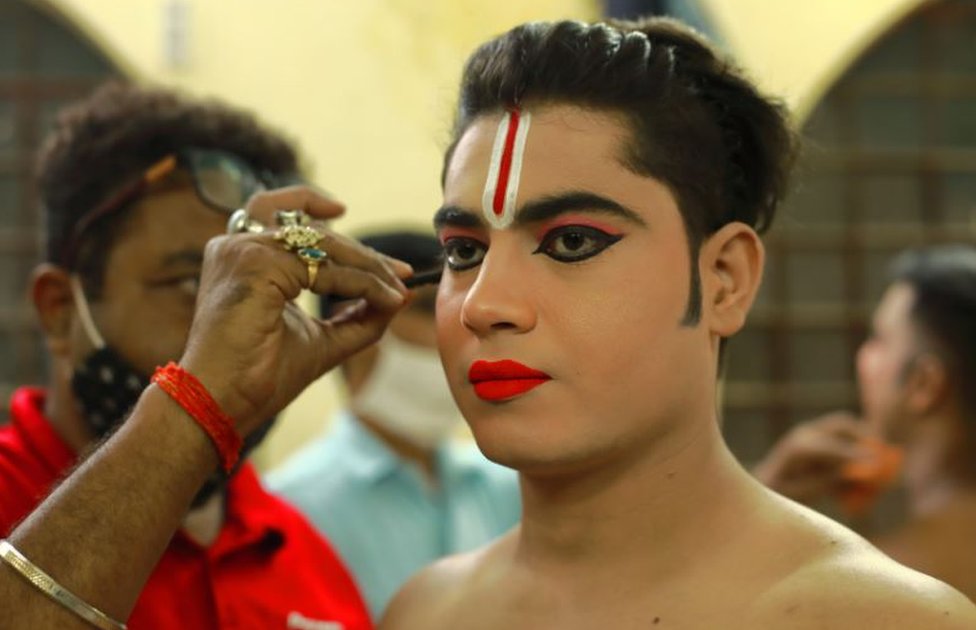 Celebrations for one of India's biggest festivals have been forced to go online because of the pandemic, report BBC's Aparna Alluri and photojournalist Ankit Srinivas.
Mithilesh Pandey finally caught an acting break this year.
The 22-year-old is playing the deity Lord Ram in Ramlila, a yearly folk dramatisation of the Ramayana, a two millennia-old epic revered by Hindus.
Ram is the hero of this enduring tale of familial obligations, loyalty, hardships and sacrifice. But, for Mr Pandey, the pandemic has been a double-edged sword.
"I am both happy and sad," he says. "Happy that I got a big part but sad that there won't be many people to watch it. Even practice sessions were not the same. We had to maintain distance and get tested several times. It took us a while to get used to all this madness."
Every year around this time, in the days leading up to the Hindu festival of Dussehra, there are thousands of Ramlilas – which translates to Ram's plays – in northern India. They culminate on Dussehra, marked by burning an effigy of the 10-headed demon-king Ravan – the blaze symbolising the triumph of good over evil.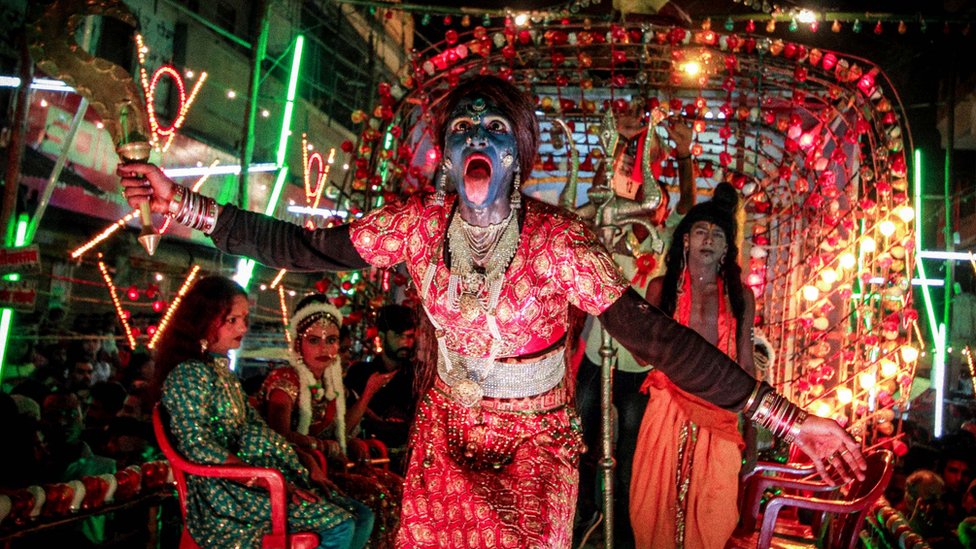 The tradition is especially popular in the state of Uttar Pradesh (UP), where Mr Pandey lives. It dates back to the 16th Century and is believed to have begun in the holy city of Varanasi.
But Covid-19 has dampened this year's festivities. Hundreds or thousands, depending on where the Ramlila is happening, turn up to watch these performances. One of the biggest is held in the capital, Delhi, but has been cancelled this year.
Mr Pandey is performing in one of the few that have been allowed to go ahead – in Allahabad city, steered by the Katra Ramlila committee which has been staging the performance for 20 years now.
Instead of the usual crowds of many hundreds, their audience will be limited to 200 people. They are also recording videos for YouTube and Facebook, but that doesn't cheer up Mr Pandey.
"We thrive on the energy of big crowds and it helps us perform better," he says. "That's not happening this year."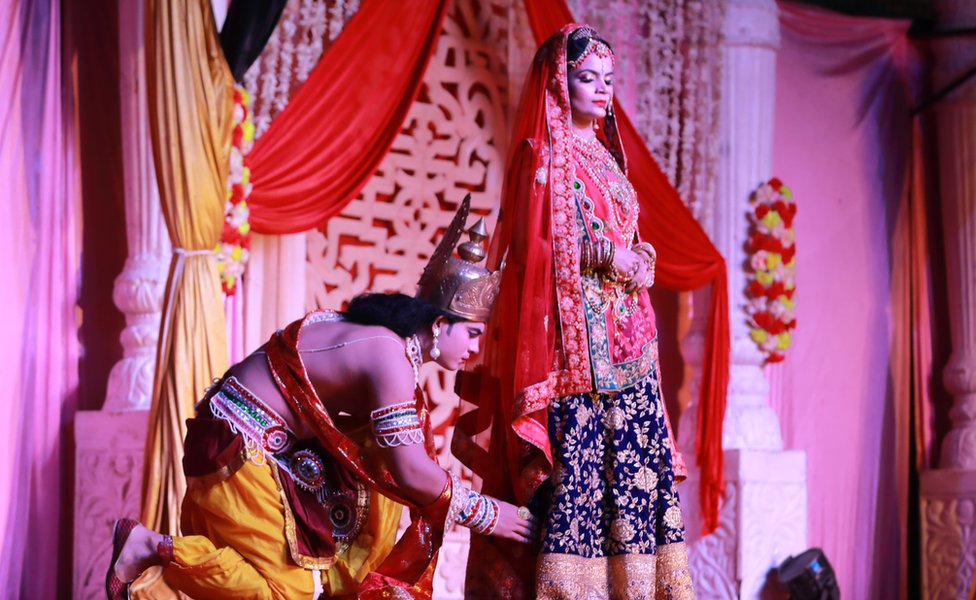 The Ramlila is no ordinary theatre performance. It's a bright, joyous celebration that is both religious and entertaining. The actors play their parts with pride, while the audience often joins in with chants hailing Lord Ram, celebrating his victory over Ravan.
"The devotees' days are curved around being there… Ordinary life pales while the Ramlila becomes ever more vivid, brilliant, gripping," wrote one religious studies scholar who attended a series of Ramlilas in the late 1970s.
The performances span anywhere between three and 30 days, depending on whether the troupe in question enacts the entirety of the epic or sections of it. In one of the most famous Ramlilas, in UP's Ramnagar, the whole town turns into a set as both actors and audience move through it, bringing an ancient tale to life.
Apart from the actual Ramlilas, there are also mini-versions that take the form of live scenes being re-enacted on floats that travel through neighbourhoods. Much of this is not possible this year, shrinking the incomes of many artists – actors, directors, choreographers and all those who help with make-up, costumes, lighting and set design.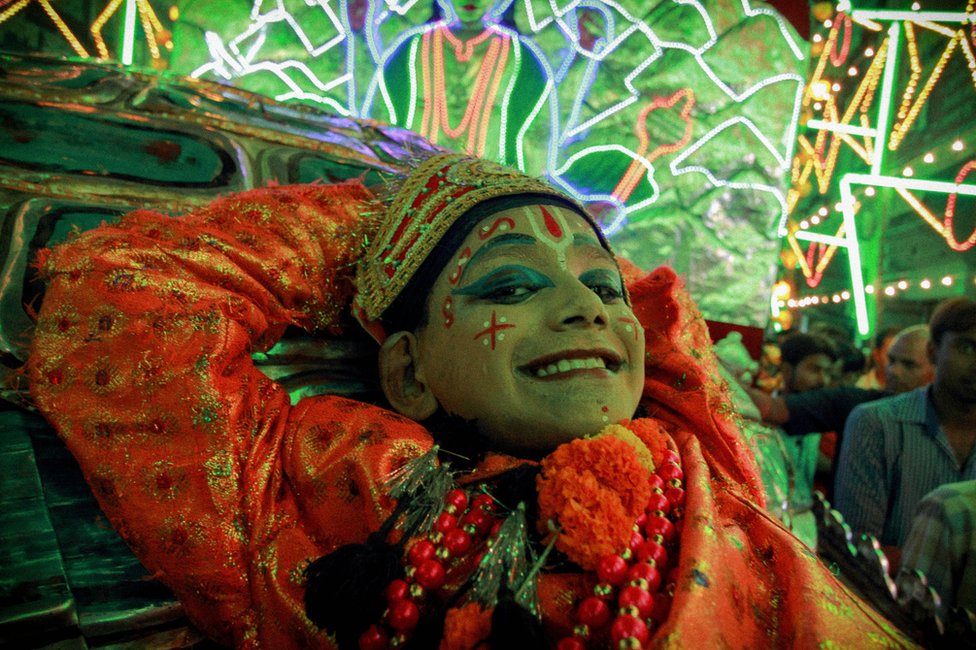 Shubham Kumar, 28, who lives in Allahabad, has been playing main roles in the local Ramlilas for five years, but this year he's out of work. He used to earn around 1,500 rupees ($20; £15) per day, but he says the loss of income is not the only problem.
"I waited for the festive season because that's when I felt closer to the divine. People treated me like god, some even touched my feet. That helped me connect with god," he says.
The scale of such unemployment is hard to gauge because the industry is almost entirely informal and also largely part-time. Many of these young men might work in other troupes or have entirely different jobs, from which they take time off to pursue a passion – or perhaps a dream.
Mr Pandey's colleague who is playing Lord Ram's brother Lakshman this year goes by the name of Chunky Pandey, a Bollywood actor.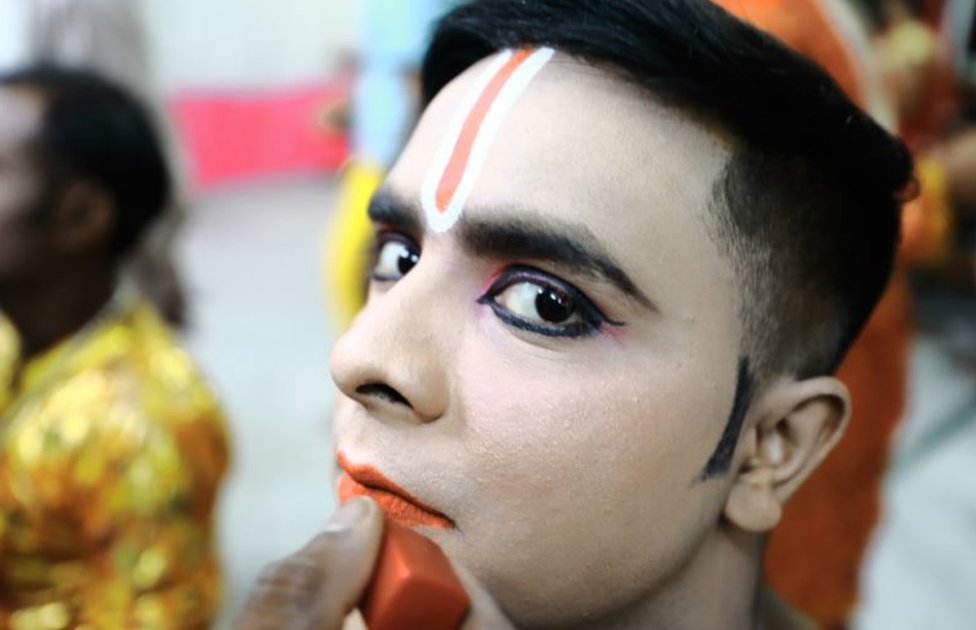 "This is a promotion for me as I did smaller roles earlier," he says. "I know it won't be the same without big crowds but I am hopeful that more young people will watch it online. We have been advertising through local WhatsApp groups."
Mithilesh Pandey is unsure social media will help because most of the audience usually comes from nearby villages and may not have smartphones or reliable internet to watch the whole performance.
"My own family won't be able to watch because there are elderly people who can't take the risk of going out due to Covid-19," he adds.
But both of the young actors are also aware they are getting an opportunity only because the pandemic has kept away veterans, many of whom live outside of Allahabad.
"I am happy to see young people get opportunities, that is one positive aspect," says 45-year-old Mallay Mishra who has played various roles in Ramlilas over 10 years.
"But nothing feels normal. We were worried and scared during practice. It showed on everyone's faces."
However, once he dons his costume and gets into character, he says, "all worries are gone".
"I hope people who come to watch and those who see it online also feel the same way."