On 30 January, Mayor Lutfur Rahman officially launched The Mayor's University Bursary Award at Queen Mary University.
The Mayor's University Bursary Award will support eligible students with living costs at university. Eligible students can apply for a £1,500 payment to support with costs associated with their undergraduate studies, including accommodation, books and resources. The total funding of £600k will support 400 students in the first year.
The funds are part of Mayor Lutfur Rahman's commitment to support young people to have greater life opportunities. They are particularly important given the cost-of-living crisis which is putting pressure on family budgets.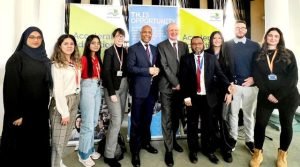 Lutfur Rahman, Mayor of Tower Hamlets, said:
"I am delighted to officially launch the University Bursary Award that will help minimise the financial challenges for young people pursuing further education.
"This financial support will help give young people the confidence and encouragement to continue their studies amid the cost-of-living crisis.
"Education is very close to my heart and supporting lifelong learning is a priority for my administration. It is vital that young people are supported to reach their full potential and given the tools and opportunities to become the future leaders of the next generation."
Cllr Maium Talukdar, Deputy Mayor and Cabinet Member for Education, Youth and Lifelong Learning, said:
"Every young person deserves a chance for an excellent education, irrespective of their financial circumstances.
"The Mayor's University Bursary Award demonstrates the council's commitment to supporting young people in Tower Hamlets at a time when many families are struggling."
The scheme is part of a £1.1m investment to support young people in further education. It follows the official launch of The Mayor's Education Maintenance Allowance (EMA), a £400 payment to eligible students to support them with their studies for the 2022/23 academic year. A funding package of £500k was announced for the first year of EMA which will support 1,250 students.
Payments for both schemes will be issued directly to the young people. Applications for the 2022/23 academic year for both schemes closed on 2 January 2023. Applications for the 2023/24 academic year will open in Summer 2023 and should be submitted on the EMA and University Bursary schemes web page at www.towerhamlets.gov.uk/EMA.