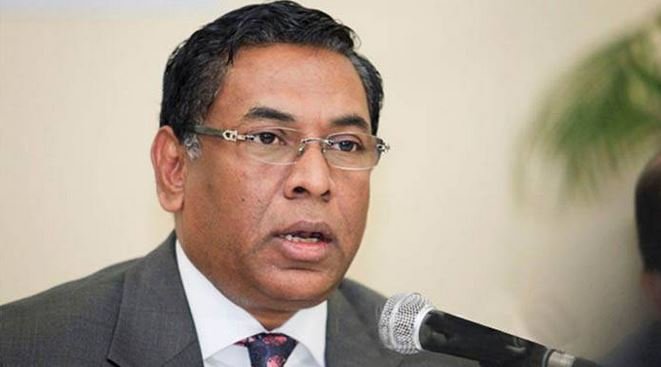 Bangladesh will get electricity from India's Adani Godda Power Plant in March, state minister for power, energy and mineral resources Nasrul Hamid has said.
He told reporters at his office in the Secretariat in Dhaka on Sunday.
The state minister said, "Adani Godda Power Plant will start supplying electricity to national grid in Bangladesh next march. There is no problem with price of the electricity, and it (price) would not be costlier than Payra Power Plant."
He further said Bangladesh will also get electricity from the second unit of Adani Power Plant in April.
The Power Purchase Agreement was signed between Bangladesh Power Development Board and Adani Power (Jharkhand) Limited to import 1496 MW (Net) from Coal Fired Power Generation Facility at Godda District, Jharkhand, India on November, 5, 2017.
Addressing the criticism over the price of Adani's electricity, Nasrul Hamid said, "Criticism has been made on the price of Adani's electricity which has no basis. We will get electricity from that plant at competitive market rates. There is no doubt about it."
"750 MW will be added to the national grid from the first unit of the plant in March. Another 750 MW will be added from the second unit in April."
He said, "There is nothing to worry about irrigation and power supply during summer season. Several of our coal-fired power plants will come into production. Rampal Power Plant started operation, and production would be start at SS Power Plant and Barishal Power Plant."
The state minister further said, "Efforts have been made to keep the electricity supply normal, and there is nothing to be worried during irrigation season."
About gas, the state minister said, "LNG import has started from sport market. Gas supply would be increased. The government plans to import eight cargos of LNG from the sport market."