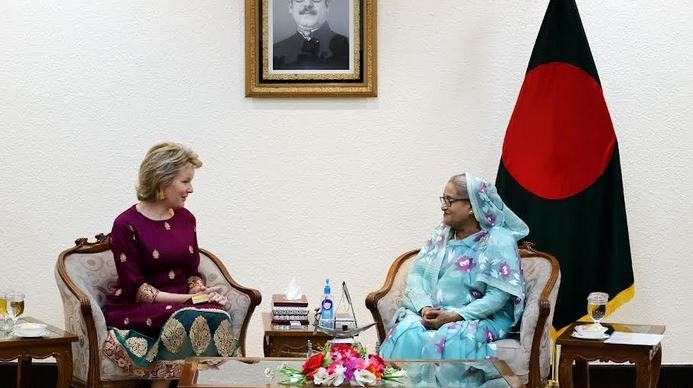 Prime Minister Sheikh Hasina said her government is tirelessly working to implement the Sustainable Development Goals (SDGs).
"We're making all-out efforts to implement the SDG agendas by incorporating its targets to the eighth fifth year plan and the perspective plan from 2021-2041," she said, reports BSS.
The Premier said this when visiting Queen of Belgium and UN SDG Advocate Mathilde Marie Christine paid a courtesy call on her at her office here.
PM's Speechwriter M Nazrul Islam briefed the newsmen after the meeting.
Referring to the Russia-Ukraine war, the Prime Minister said the entire world has become instable and the inflation rate has gone up due to war.
"Russia-Ukraine war should be stopped immediately as the people's suffering has been mounting across the globe due to the war," she said.
The visiting Queen highly praised the Prime Minister for tremendous development in Bangladesh's various sectors particularly in women empowerment, development of women and children and female education.
"I am very happy to see the progress," she said.