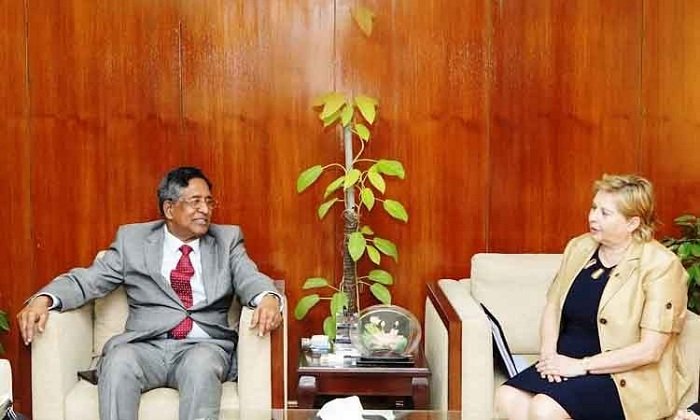 Agriculture Minister Dr Abdur Razzaque has said Canada assures that it will continue selling potassium fertilizer to Bangladesh.
"Due to the Russia-Ukraine war and sanctions imposed last year, there was an uncertainty over potassium fertilizer prices globally," he said while exchanging views with journalists at his secretariat office in Dhaka after a meeting with a delegation of Canadian Commercial Cooperation, led by newly appointed Canadian High Commissioner in Dhaka Lilly Nicholls on Thursday.
"We were not able to buy potassium fertiliser from Belarus and then, following an effort by the government, Canada first gave us five lakh tonnes of potassium fertiliser as an emergency aid. As a result, we did not face fertiliser shortage in Rabi season and ongoing Boro season," Razzaque said.
The delegation of Canadian Commercial Cooperation visited Bangladesh to boost Canada-Bangladesh trade ties.
During the meeting, they discussed various issues related to mutual interests, including enhancing cooperation in agriculture sector and import of vegetables from Bangladesh.
Razzaque said Prime Minister Sheikh Hasina is providing a huge amount of subsidy in agriculture sector, which is a rare instance in the world.
"No matter how much political pressure comes, Prime Minister Sheikh Hasina will not take any step that hampers agricultural production. So, the Prime Minister is providing a huge amount of subsidy for overall development of agriculture," he said.
Additional Secretary of the ministry Ruhul Amin Talukder was, among others, present at the meeting.