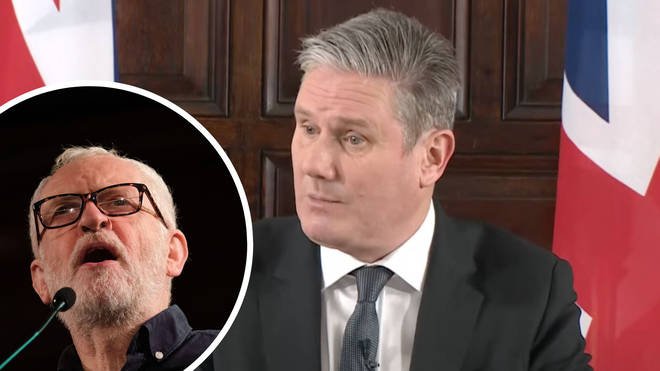 Former Labour leader Jeremy Corbyn will not be allowed to stand for Labour at the next election.
Sir Keir Starmer said the MP, who was already kicked out of the party, will not stand under his party's banner.
It comes as Sir Keir tries to draw a line under the party's past, when it became embroiled in a series of anti-semitism controversies under the left-wing former leader, who has been suspended from the party for years.
"Jeremy Corbyn will not stand for Labour at the next general election," his successor as leader said.
"What I said about the party changing, I meant, and we are not going back."
It comes after the Equality and Human Rights Commission said it was no longer monitoring the party over its handling of anti-semitism. Previously, the watchdog accused the party of "serious failings" under Mr Corbyn's leadership.
But while he said anti-semitism was "absolutely abhorrent" in 2020, he went on to say: "The scale of the problem was also dramatically overstated for political reasons by our opponents inside and outside the party, as well as by much of the media."
That led to his suspension, with Sir Keir saying those who claimed the anti-semitism problem in Labour were "part of the problem" and should not be in the party.
"Today is an important moment in the history of the Labour Party.
"It's taken many, many months of hard work and humility to get here.
"It's meant rebuilding trust, not just with the Jewish community but with all those who were rightly appalled by the culture of the party and the previous leadership.
"When I became leader, I said I would turn Labour around and give it back to the British people and the most important and urgent part of that was tearing out antisemitism by its roots.
"Antisemitism is an evil and no political party that cultivates it deserves to hold power."
The Equality and Human Rights Commission had scrutinised Labour since ruling it was responsible for unlawful acts of harassment and discrimination more than two years ago.
But the watchdog said it has improved its complaints and training procedures to protect current and future party members under Sir Keir's leadership.