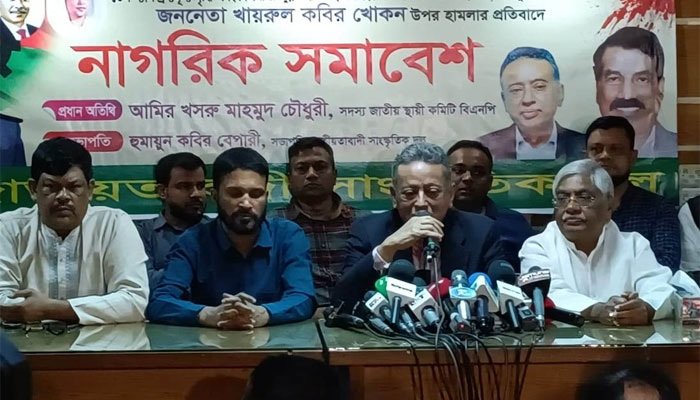 A section of judiciary and administration is working to keep Awami League government in power unlawfully, alleged BNP standing committee member Amir Khasru Mahmud Chowdhury.
He made the remarks taking part in a discussion at Dhaka Reporters Unity at Segunbagicha in the capital on Thursday (February 16, 2023).
Nagorik Samabesh organised the discussion in protest against price hike of oil, gas, essentials and attack on BNP joint secretary general Khairul Kabir Khokon.
Amir Khasru said, "An illegal occupant government is now in power of Bangladesh. Law of the land is being used to keep this illegal government in power. In order to keep them in power, a heroic Freedom Fighter was taken to court by tying around his waist with rope. As many as 17 leaders were killed to keep them in power. Some 3.7 million opposition leaders and activists have been implicated in false cases to keep them in power. Those who express differences of opinion, they become the state's enemies."
The BNP standing committee member observed that there was only one way to get rid of the situation. "We are heading towards our goal under the leadership of Tarique Rahman."
Regarding the election of a new president, he said BNP doesn't have any 'headache' about who has become the new president. "I won't make any comment about the controversies going on over the election of president and questions raised by intellectuals, lawyers and professionals, because BNP doesn't have any headache about it."
Amir Khasru said, "An illegal government is now sitting on the state power. These occupiers have made someone as prime minister, someone as ministers and someone as MPs. They don't follow any law. Those who have made them are illegal grabbers of power. The government is illegal, and the Election Commission which has received to appoint a president is also illegal. Those who are involved in the matter are illegal. So, people have no headache who has been selected as President, ministers, MPs etc. There is no necessity of talking about it."
The BNP leader said, "We will launch a vigorous movement to unseat this illegal government from power. Thousands of people have taken to street. They all say that Bangladesh will never be able to free itself unless this illegal government is ousted from power."
BNP vice-chairman Barkat Ullah Bulu, executive committee member Abu Naser Mohammad Rahmat Ullah, and Humayun Kabir Bepari, among others.