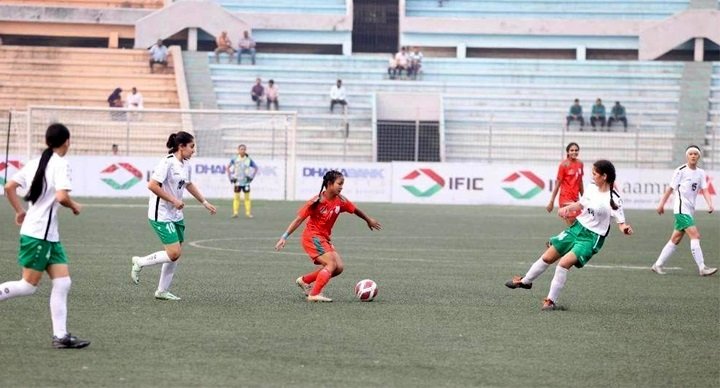 It was magnificent display by Bangladesh as they blanked Turkmenistan by 4-0 goals in their opening group H match of AFC U-20 Women's Asian Cup Qualifiers held today (Friday) at Birshreshtha Shaheed Sepoy Mohammad Mostafa Kamal Stadium in the city's Kamalapur.
In the day's match, forward Aklima Khatun and mid fielder Sapna Rani struck twice each to secure Bangladesh's commanding victory on the day after leading the first half by 1-0 goal.
Bangladesh though launched early attacks in the beginning of the match creating number of scoring chances but they had to wait to take the lead till the injury time of the first half.
Forward Aklima Khatun finally broke the deadlock scoring the first goal for Bangladesh in the 45+2nd minute with left footer shot from the goalmouth melee, following a corner kick taken by Sopna Rani from the right flank.
Forward Aklima Khatun doubled the lead scoring the second goal for Bangladesh in the 70th minute with a volley from the close range after utilizing a long cross from Eti Khatun from the right wing.
The second half of the match saw more exciting as the girls in red and green added two more goals ensuring their full of domination in the match.
Sapna Rani scored the remaining two goals in a span of two minutes. She further widened the team's margin scoring the third goal for Bangladesh with header from a cross from Eti Khatun in the 81st minute and completed the tally scoring her second and fourth goal with an angular shot off a cut back from Ripa in the 82nd minute of the match.
Bangladesh clearly dominated the proceeding and notched their deserving victory on the day while Turkmenistan were off-colored as they failed to produce any real move.
Bangladesh will play their second and ultimate group match against strong Islamic Republic of Iran to be held on Sunday (March 12) at the same venue.
The best of the three teams will qualify for the next round.
Earlier, on Wednesday last, Turkmenistan made a frustrating start as they went down 1-7 defeat to Iran in their opening group match.
Bangladesh squad – Rupna Chakma, Nasrin Akter, Surma Jannat, Afida Khandakar, Sohagi Kisku, Sapna Rani, Mahfuza Khatun, Shaheda Akter Ripa, Aklima Khatun, Airin Khatun and Eity Khatun.