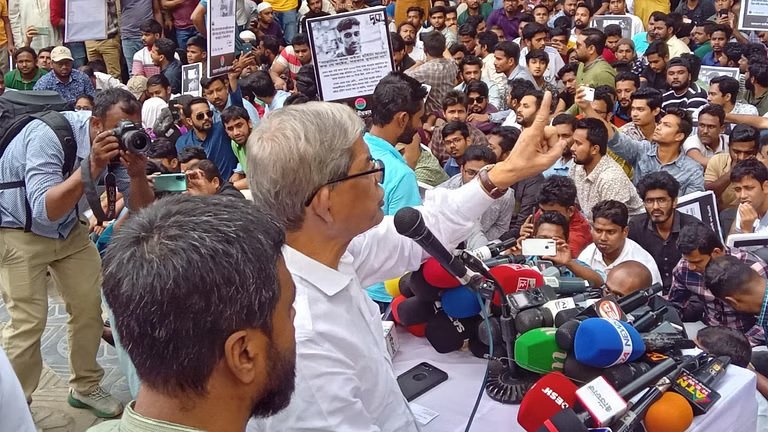 The fall of the government will be accelerated through the mass uprising, said BNP Secretary General Mirza Fakhrul Islam on Saturday (April 1, 2023).
"The fall of this government is imminent as people have become awakened about its misrule and rampant corruption," he said while speaking as the chief guest at a sit-in programme at Institution of Engineers Bangladesh (IEB) premises at Ramna in the capital.
According to the BNP Secretary General, the Awami League government has remained in power making the people fool and adopting the fraudulent ways.
"But, fall of this government will happen through a mass ursurge. Then we will establish the government of people. People will no more keep their feet in the traps of Awami League. They will foil all the conspiracies of Awami League building a united resistance," he said.
Dhaka North City and Dhaka South City units of BNP organise the sit-in programme in protest against price hike of essentials, electricity and gas, and rampant corruption.
Mirza Fakhrul said, "Our leader Begum Khaleda Zia has been made house arrest in an unjust way. We demand of her release. Our acting chairman Tareque Rahman has been forced to live in exile abroad punishing him unlawfully. We demand of allowing Tareque Rahman to come back to the country and give him the scope of doing politics. Besides, the cases filed against our 35 lakh leaders and workers must be withdrawn."
Referring to filing false cases against Prothom Alo editor Matiur Rahman and journalist Shamsuzzaman Sham under what he said the draconian Digital Security Act (DSA), Fakhrul said the government has resorted to silencing the dissidents in order to cling to power. Those who say anything else against the misdeeds of the government, they have become the victims of arrest, forced disappearance, and murder.
Dhaka City South BNP convener Abdus Salam presided over the programme.
It was also participated by BNP standing committee members Dr Khondker Mosharraf Hossain, Mirza Abbas, BNP Dhaka City North convener Amanullah Aman, Engineer Ishraq Hossain, Jubo Dal president Sultan Salahuddin Tuku, Jubo Dal senior vice-president Mamun Hasan, among others.