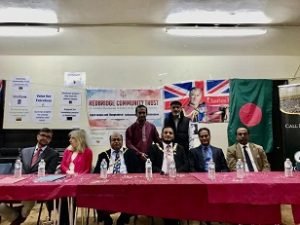 Redbridge Community Trust (RCT) organized a discussion and cultural evening to mark the coronation of King Charles III, Eid Re-union and Bangladesh Independence Day at 6pm on Saturday 6th May at the Methodist Church, 7a, Seven Kings Road, ig3 8dh.
The whole program of discussion meeting and cultural evening organized under the chairmanship of Redbridge Community Trust (RCT) President Mohammed Ohid Uddin and moderated by renowned media personality Misbah Jamal was divided into two phases.
In the first phase, discussions, distribution of prizes and entertainment were held on the occasion of the coronation of King Charles III, Eid Reunion and Bangladesh Independence Day and in the second phase, cultural programs were presented. The program was ushered in by the recitation of the Holy Quran by Mr. Abdur Razzak.
Thavathuray Jeyaranjan, His worship Mayor of Redbridge Council, was the chief guest at the discussion and cultural evening. Shafi Ahmed Munna Speaker of Tower Hamlet Council, Mayor of Barkingham and Dagenham Council, Councillor Faruk Choudhury , former Speaker of Towerhamlet council Cllr Ahbab Choudhury, Councillor Kabir Mahmud, Sylhet District Awami League Joint General Secretary Humayun Islam Kamal, Councillor Ahbab Chowdhury, Councillor Pushpita Gupta, Councillor Faizur Rahman, Redbridge Liberal Democrats Diversity Officer Cathy  Davis were the special guests.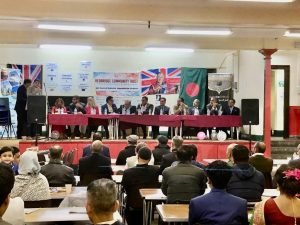 The speakers are RCT organizing secretary Afsor Hussain Anam, social and welfare secretary Shaheen Choudhury, joint secretary Niaz Choudhury Shuvon, joint treasurer Golam Md. Rafiq, Basith Chowdhury, Freedom fighter Dewan Kamal, Nurul Haque, Mohammad Taraque Chowdhury , Habibur RahmanMoyna, President of Bianibazar Progressive Association, and Akbar Hossain, Secretary of Bianibazar Progressive Association, Azad Hussain CeMap,Mohammad Faruk Uddin, Abdul Munim,  Mamun, Anam, Maksud Ahmed, Gulzar Ahmed, Rowshon Ahmed Md. . Golam Rafiq, Mohammad Haque, A. Sohail, Osman Md. Rabbi etc.
The guests expressed their satisfaction to learn that RCT has taken the initiative to establish a Bengali school for Bengali speaking youth living in Redbridge.
In the second part of the program, Dr. performed music in the cultural evening. Shampa Dewan and her