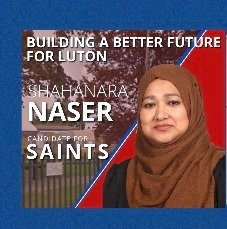 By Muhammed Shahed Rahman :
Shahanara Naser is the first Bengali councilor elected from Saints Ward of Luton Council. Voting for UK local government elections has ended. Shahanara Naser (Mamata) was elected as a Bengali councilor for the first time from the Saints Ward of Luton Council.
The number of votes received was 1525. She contested from the Labor Party and won. She is the wife of Luton community activist, former teacher Shah Abu Naser (Sajon).
After being elected as a councilor, Shahanara Naser expressed her gratitude to the voters for electing her, She promised to build a modern ward in the Saints Ward of Luton, expressing his conviction to work for the welfare of every human being.
On Thursday (May 4, 2023) the polling started at 7 am local time and continued till 10 pm.
In this year's local government elections, more than 150 British Bangladeshis are competing in the nominations of the ruling Conservative Party, the opposition Labor Party, the Liberal Democratic Party and the Green Party. 21 Britons of Bangladeshi origin are running for Luton Council.
In this year's local government elections held in 230 councils including metropolitan, district, unitary, bar councils and 4 council mayors.
In addition to voting directly in elections, many voters cast their ballots through postal and proxy ballots.