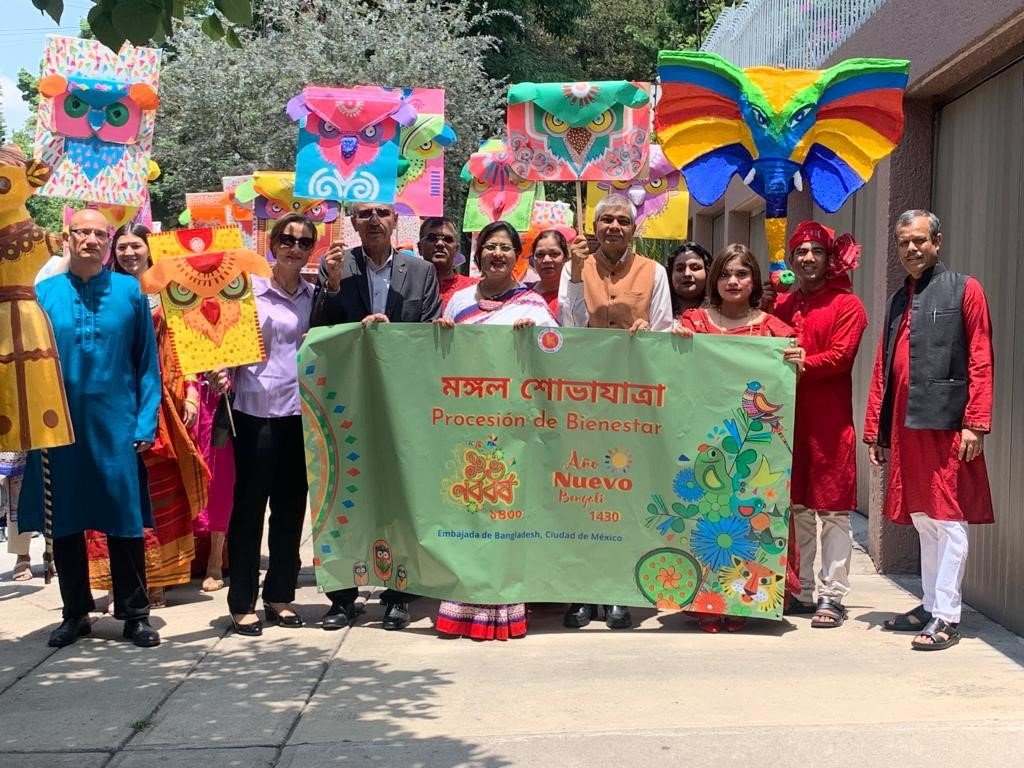 The Bangladesh Embassy in Mexico City celebrated Bengali New Year 1430 with a vibrant and festive event on Saturday (May 27) at the Chancery.
Originally scheduled for April 14, the celebration was rescheduled to May due to the holy month of Ramadan.
The festivities commenced with the traditional "Procession for Wellbeing (Mongal Shovajatra)" from the Embassy premises, said a press release of Bangladesh Embassy in Mexico City.
The procession showcased a stunning array of 'Pohela Boishakh' masks, including tepa putul, owl, tiger, peacock, and elephant head, as well as captivating festoons and banners.
Enthusiastic participation was seen from invited diplomats, members of the local Bangladeshi community, Embassy officials, and their family members, all contributing to the lively and colorful atmosphere.
Ambassador Abida Islam warmly welcomed all attendees and extended her heartfelt wishes for a happy Bengali New Year. She invited everyone to immerse themselves in the rich cultural heritage of Bangladesh.
Ambassador Islam emphasized the significance of UNESCO's recognition of the "Procession for Wellbeing (Mongal Shovajatra)" as a World Cultural Heritage, expressing deep pride and honor for the Bengali community.
She also urged the Bangladeshi community members to preserve the traditions and culture of Bangladesh on foreign soil, aligning with the Embassy's efforts to uphold the same.
The backdrop of the event showcased the exquisite "shitalpati," a handcrafted mat that has been recognized by UNESCO as an "Intangible Cultural Heritage of Humanity."
This symbolic display represented the cultural richness of rural Bengal. Adding to the cultural exchange, the event featured impressive Boishakhi dances performed by Mexican dancers, who gracefully adorned sarees with 'Frida Kahlo motifs.'
This fusion of Bengali and Mexican artistic elements added a unique touch, promoting cross-cultural understanding and appreciation.
With the active participation of Embassy officials and members of the Bangladeshi community, a delightful cultural program featuring music, dances, and recitations was organized. The atmosphere transformed into a mini-Bangladesh in Mexico City, filled with joy and celebration.
The festivities culminated with the serving of traditional Bangladeshi food items and rice cakes, further enhancing the cultural experience.