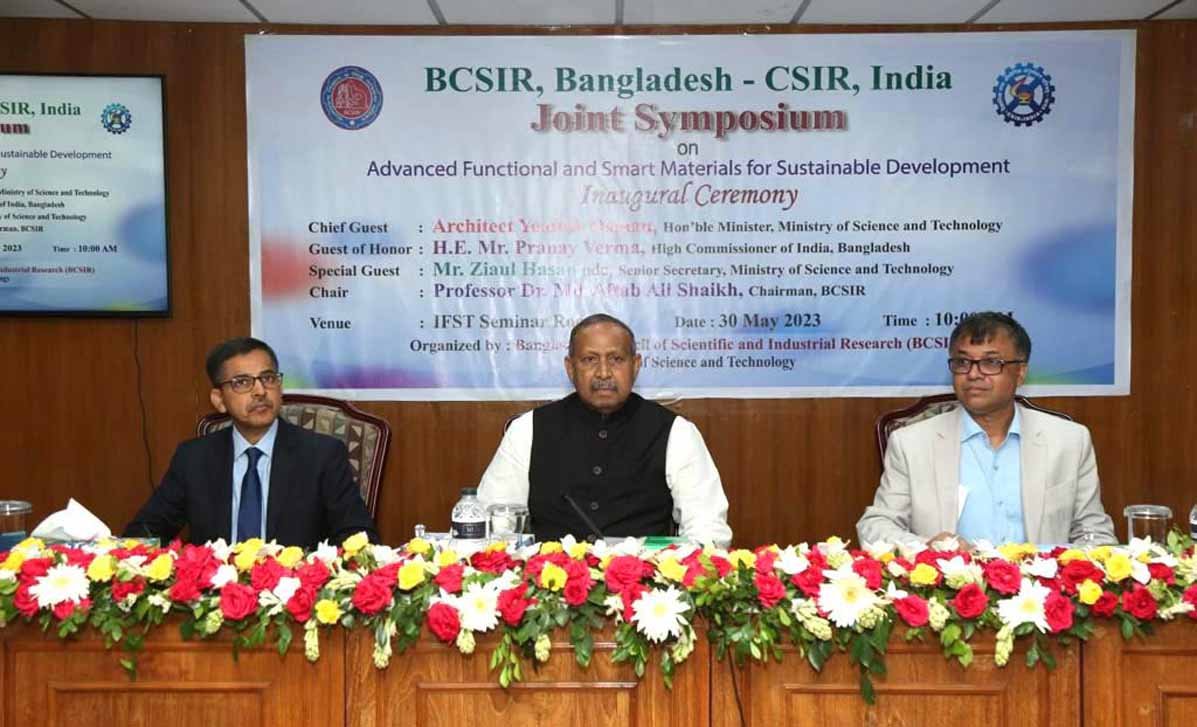 ■ Sunil Singha ■
As part of the long-standing cooperation between India and Bangladesh in the field of Science & Technology, the Bangladesh Council of Scientific and Industrial Research (BCSIR) hosted a Joint Scientific Symposium in partnership with India's Council of Scientific and Industrial Research (CSIR) in Dhaka on 30 May 2023. The subject of the Symposium was "Advanced Functional and Smart Materials for Sustainable Development".
1. High Commissioner of India to Bangladesh, H.E. Mr. Pranay Verma was invited to address the Symposium as the Guest of Honour. Hon'ble Minister of Science & Technology, Government of Bangladesh H.E. Architect Yeafesh Osman presided as the Chief Guest.
2. In his inaugural address, High Commissioner Pranay Verma highlighted the value of S&T cooperation between India and Bangladesh as an important dimension of their development partnership and a key catalyst in achieving larger national goals and finding solutions to common developmental challenges. He stressed that as nations aspiring to join the ranks of developed economies of the world, there was great value and necessity for India and Bangladesh to promote closer engagement in science and technology. High Commissioner said that our collaboration can also bring unique perspectives as developing countries into our scientific research and innovation, creating solutions that address our societal challenges and generating ideas that meet our developmental aspirations. He urged greater participation of younger scientists from both countries in our S&T collaboration.
3. With a view to enhance inter-disciplinary cooperation between scientists as well as institutes and laboratories of India and Bangladesh, a Memorandum of Understanding (MOU) was signed between CSIR India and BSCIR Bangladesh during the State Visit of Hon'ble Prime Minister of Bangladesh, H.E. Sheikh Hasina to India in September 2022. The two-day long Joint Symposium is being organized with the participation of scientists from India and Bangladesh in pursuance of that MOU.
4. A lesser-known area in the multifaceted relationship shared between India and Bangladesh, scientific and technological cooperation is an important pillar which encompasses promoting exchange of information, joint projects, utilization of respective major scientific facilities, twinning arrangements towards capacity development, in addition to advancing technology transfer and commercialization. Joint research, as the one envisaged in this Symposium, is being conducted in diverse areas of common interest, including biological sciences, food science and technology, metallurgy, nanotechnology, leather product technologies, metrology, polymer sciences and drug discovery, among others.