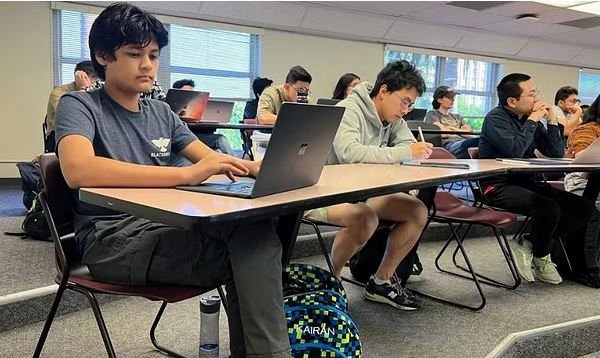 Despite being only 14 years old, Bangladeshi American teen Kairan Quazi has been hired to work for SpaceX's satellite internet team, Starlink, as a software engineer, the Los Angeles Times reports.
Kairan, who is set to graduate this month from the Santa Clara University School of Engineering before starting the job at the satellite communications and spacecraft manufacturer, sees it as an opportunity to be part of something bigger than himself.
"I think my college years have been the happiest years of my life because I had a lot of autonomy, really, to share my journey," Kairan said in an interview with the paper at his residence in Pleasanton, California.
When he was two, Kairan spoke in complete sentences. When he was in kindergarten, he could recount news stories he heard on the radio to his teachers and classmates.
When he was nine, his parents, teacher, and paediatrician agreed that he was ready for more advanced studies, leading the youngster to jump from third grade to a community college,
"I felt like I was learning at the level that I was meant to learn," said Kairan, who later transferred to Santa Clara University.
Kairan enjoys playing video games, like the historical fiction series "Assassin's Creed," and reading the science-fiction short stories of Philip K Dick and the work of journalist Michael Lewis.
He relishes telling stories about his life because his journey has been a constant struggle of trying to convince authority figures of his intellect and character.
"I think one of the things I really want to do with telling my story is hopefully have leaders in influential positions challenge their biases and misconceptions," he said. "Hopefully, I can open the door to more people like me."
Kairan's family told BrainGain Magazine that when he was nine, IQ tests showed that his intelligence was in the 99.9th percentile of the general population. Asked if he was a genius, he recalled his parents telling him, "Genius is an action ― it requires solving big problems that have a human impact."
Kairan felt that he found his freedom to pursue a career path that allowed him to solve these big problems once he was accepted to the engineering school at Santa Clara University.
While in college, Kairan and his mother made a list of places where he could apply for an internship, the Los Angles Times reports. Only one of these companies responded to his application.
Lama Nachman, director of the Intelligent Systems Research Lab at Intel, took a meeting with 10-year-old Kairan. Kairan expected the interview to be brief, thinking she would give him the customary response of "try again in a few years".
Instead, she accepted him.
"In a sea of so many 'no's' by Silicon Valley's most vaunted companies, that ONE leader saying yes … one door opening … changed everything," Kairan wrote on his LinkedIn page.