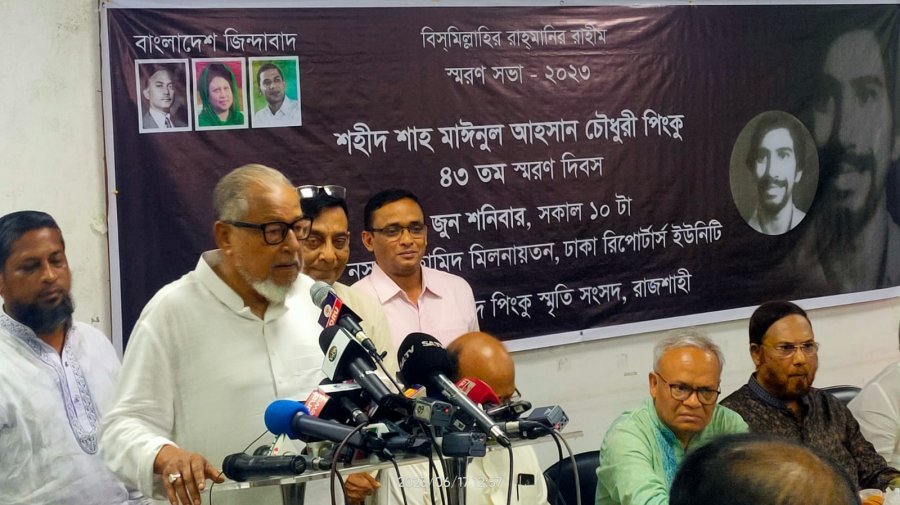 BNP Standing Committee member Nazrul Islam Khan termed Awami League General Secretary Obaidul Quader's assertion that many BNP leaders are preparing to join the next election under a partisan government a 'sheer lie'.
"Why are only many leaders? We all want to participate in the elections, but not under this government, under a non-partisan neutral government," he said.
Speaking at a discussion, the BNP leader said their party has long been boycotting the local government elections, including union Parishad and city polls, and a few leaders who joined the polls have been expelled from the party.
Nazrul said the ruling party leaders are making reckless comments about BNP and its leaders manifesting their bad taste. "We also hear that many people who belong to Awami League want to leave the country fearing bad times ahead. But is it a matter of giving a speech? We do not make such comments as our level is not that much low."
Shaheed Pinku Smriti Parishad arranged the discussion at Dhaka Reporters Unity (DR), marking the 43rd death anniversary of Rajshahi Medical College unit Jatiyatabadi Chhatra Dal leader Mainul Ahsan Pinku, UNB reports.
Nazrul said most political parties in Bangladesh now believe that a fair and acceptable election is not possible under the Awami League government.
He said that even Jatiya Party Chairman GM Quader has been saying that there will not be a fair election under the current government. "Many of those who are in the 14-party alliance are also saying a similar thing. Holding the election under a caretaker government has now become a public demand."
The BNP leader also said how the national election will be fair under the Awami League government when it cannot hold the local body polls in a fair and credible manner. "So, the next national election must be held under a non-partisan government."
He said their party's movement for the installation of a polls-time caretaker government will turn successful by ensuring the fall of the current 'usurper' regime.
The BNP leader said the Awami League government has indulged in so many misdeeds, torture, persecution, corruption and plundering that it is now afraid to quit power. "They now fear that they won't be able to avoid public wrath after losing power as people won't forgive them."