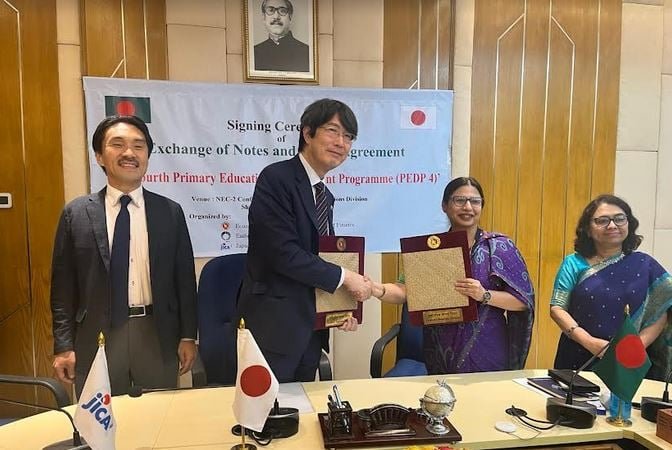 The Japan government will provide 500 Japanese yen (about USD 4 million) as grant for Fourth Primary Education Development Programme (PEDP4) of the country.
Japanese Ambassador in Dhaka Iwama Kiminorio and Economic Relations Division Secretary Sharifa Khan signed the Exchange of Notes on the Japanese Grant aid, a press release issued by Japanese Embassy said.
Based on this agreement between the two counties, Chief Representative of JICA Bangladesh Office Ichiguchi Tomohide and Sharifa Khan also signed a relevant Grant Agreement.
"In order for Bangladesh to achieve the further ambition to become a developed country in 2041, it is important not only to achieve economic growth but also to improve the quality of education accelerating Bangladesh's inclusive growth," said Japanese ambassador on the occasion.
He said that education, which develops human resources, is essential for Bangladesh's future sustainable development.
"I would like to emphasize that PEDP4 has been playing and will play a vital role. We will continue to support every level of education in this country," he added.
Japan has provided total two billion Japanese Yen (about USD 15 million) for PEDP4, including this fourth grant, which is the financial support for a variety of implementations for achieving the programme.