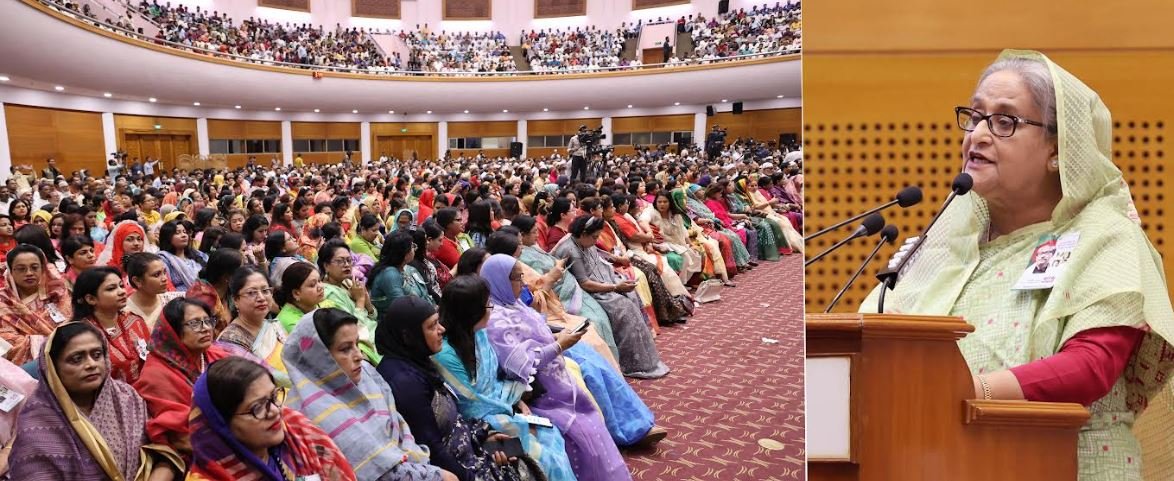 Prime Minister Sheikh Hasina on Friday said that the fate of the country's people will change only if the Bangladesh Awami League remains in power.
"People's fate will change only if there is Awami League (in power)," she said while delivering her address as the chair at a discussion meeting organized by the AL on the occasion of its 74th founding anniversary in the city's Bangabandhu International Conference Center, BSS reports.
Sheikh Hasina, also the President of ruling party AL, said, "AL was founded by the people, for the people and to serve the people -it is the motto of AL."
It is a proven fact that the people get benefit when AL remains in government, and then the people's fate also changes, she said, adding: "As people have voted for the boat, changes (of fate) of people have been possible today."
Reiterating her stance to let no one to play ducks and drakes with Bangladesh, she said: "I know there are many plots, conspiracies."
AL general secretary and road transport and bridges minister Obaidul Quader, party's advisory council member Tofail Ahmed, presidium members Jahangir Kabir Nanak and Abdur Rahman, joint general secretary Mahbubul Alam Hanif, organizing secretaries Advocate Afzal Hossain and Shafiul Alam Nadel, health and family welfare secretary Dr Rokeya Sultana, central working committee member Begum Akhter Jahan, Dhaka south city unit President Abu Ahmed Mannafi and Dhaka north city unit President Bazlur Rahman, also spoke.
AL publicity and publication secretary Abdus Sobhan Golap and his deputy Syed Abdul Awal Shameem moderated the discussion.
Bangladesh Awami League was formed on this day in 1949, which later transformed into the biggest political party of the country to lead struggles for freedom, the War of Liberation and all democratic movements.