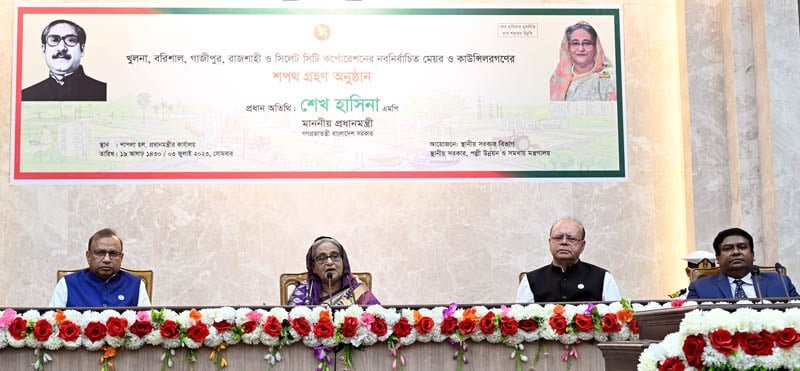 Prime Minister Sheikh Hasina on Monday asked public representatives to serve the people and meet their needs when working in their respective areas.
"You will have to fulfil the needs and wants of the people who elected you with their votes," she said, reports UNB.
The premier said this at the oath-taking ceremony for the newly elected mayors and councillors of Barishal, Khulna and Gazipur city corporations at Shapla Hall of her office.
Addressing the newly elected public representatives, she said, "You, being elected with votes of the people, have the scope to serve people. I want you to work in your own areas as public servants."
The prime minister administered the oaths of newly elected mayors of three city corporations – Abul Khair Abdullah of Barishal, Talukder Abdul Khaleque of Khulna and Jayeda Khatun of Gazipur.
Later, 177 newly elected councillors of general wards and female councillors of the reserved seats of three city corporations were also sworn in at the same venue.
Local Government, Rural Development and Cooperatives Minister Md Tazul Islam administered the oaths of the councillors.
Local Government Division Secretary Muhammad Ibrahim conducted the oath-taking ceremony.
State Minister for LGRD and Cooperatives Swapan Bhattacharjee was also present on the dais.
On June 12, Awami League mayoral candidate Abul Khair Abdullah (Khokon Serniabat) won the Barishal City Corporation election with 87,807 votes.
Awami League mayoral candidate Talukder Abdul Khaleque won the Khulna City Corporation (KCC) election with 1,54,825 votes on June 12.
On May 25, independent candidate Jayeda Khatun won the Gazipur City Corporation (GCC) polls with 238,934 votes.