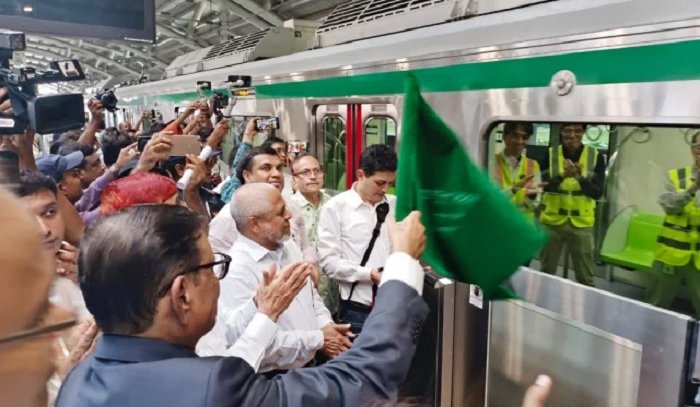 Road Transport and Bridges Minister Obaidul Quader on Friday inaugurated the test run of trains on Agargaon-Motijheel route of metro rail.
He inaugurated the test run by waving a green flag at the metro rail's Agargaon Station on Friday afternoon.
Speaking on the occasion, Obaidul Quader said launching of the movement of metro rail between Agargaon and Motijheel portion is another milestone of the mega projects of Sheikh Hasina government. People would be able to witness the trial run of metro rail regularly.
The minister also said Prime Minister Sheikh Hasina would formally open this portion for the movement of passengers in the last week of October. Passenger services will be launched after the inauguration.
Obaidul Quader said, "The system integration test will continue till October 15 next starting from today (July 7). This test will take place during the days on Fridays and at night other days. We hope that Prime Minister Sheikh Hasina will formally inaugurate this portion of metro rail for the movement of passengers at the end of October next."
Prime Minister Sheikh Hasina inaugurated the metro rail from Uttara to Agargaon in December 2022.
The government is implementing the fast-track project to build the 21.26km long metro rail, which will have 17 stations, from Uttara to Kamalapur at a cost of Tk 33,472 crore.
Each metro train has 24 sets of six coaches. Each train has a maximum passenger carrying capacity of 2,308 and a capacity of 60,000 passengers per hour.