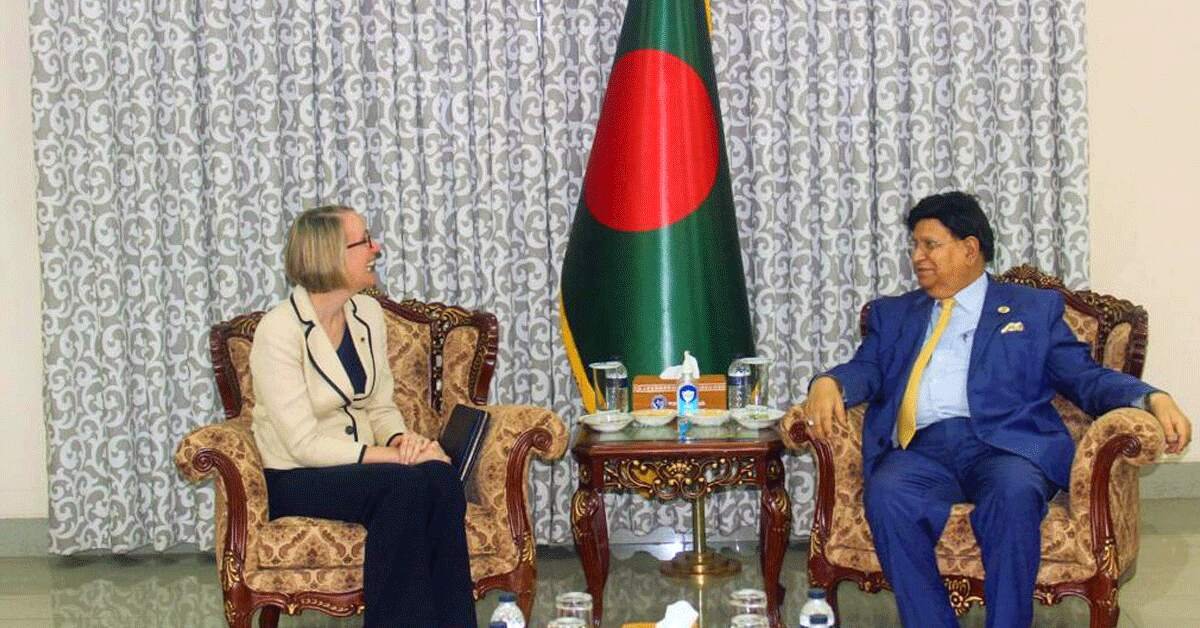 British High Commissioner Sarah Cooke on Monday commented that the relations between the two countries have shifted from "development assistance centric to a strategic one" following Bangladesh's rapid economic development in the recent years, the foreign ministry said.
She also referred to the frequent exchange of high-level visits, stronger cooperation in defence, aviation and climate sectors between the countries while meeting Foreign Minister Dr AK Abdul Momen at the latter's office.
The high commissioner acknowledged the immense contribution of large Bangladeshi diaspora in the economy and society of the UK, role of Bangladesh-origin British Parliamentarians and informed that British investors are looking forward to suitable projects for investment in Bangladesh.
She highlighted that Bangladesh and UK share historic bonding, deep people-to-people contact, and uphold common values of the Commonwealth.
She assured of continued humanitarian and political support of the UK government to the Rohingya crisis and expedited visa issuance particularly for the students.
The British high commissioner expressed that the upcoming general elections in Bangladesh would be free, fair, peaceful and participatory.
The foreign minister welcomed foreign observers during the upcoming general elections and underlined the need of all political parties' commitment for free, fair and peaceful general elections.
He congratulated her on her appointment as the new British high commissioner to Bangladesh during the maiden courtesy call on.
The foreign minister fondly recalled his personal interactions with both the late Queen Elizabeth II and King Charles on different occasions.
He also mentioned the recent visits of Prime Minister Sheikh Hasina to London to attend the funeral of the late Queen Elizabeth II and the Royal Coronation of King Charles III and Queen Camilla.
The foreign minister recalled that the historic relationship between Bangladesh and the UK started it's journey on 8 January 1972 when the then British Prime Minister Sir Edward Heath warmly received Father of the Nation Bangabandhu Sheikh Mujibur Rahman in London on the way of his return to independent Bangladesh from the captivity in Pakistan.
Highlighting the spectacular socio-economic development of Bangladesh under the visionary leadership of Prime Minister Sheikh Hasina, he termed the bilateral relations between Bangladesh and the UK as rock-solid, appreciated UK's development assistance in our developmental journey, and noted the sharing of the same values of democracy and human rights.
He invited more investments from the UK specially in our agro-processing, renewable and clean energy, and aviation sectors and sought further cooperation from the UK in tackling climate change, and support to the Bangladesh's candidature to IMO Secretary-General and Council member elections.