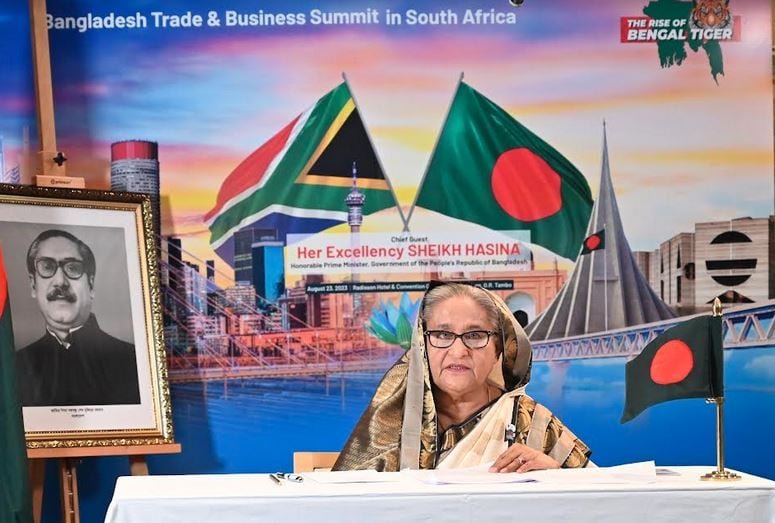 Prime Minister Sheikh Hasina today placed five proposals to make women and girls as agents of change, stressing the need for creating congenial atmosphere for their empowerment.
"In the Global South, we must create an enabling environment for our women and girls to become agents of change. We should all join hands to achieve SDG 5," she said while addressing a BRICS Outreach luncheon at Sandton Convention Centre here.
The current Chair of the BRICS and South African President Cyril Ramaphosa hosted the luncheon.
In the function, Sheikh Hasina has attracted attention of the Global South leaders on her five pressing issues (proposals) that she said required to be addressed to make women and girls of the region as change makers.
The prime minister in her first proposal said, "We must mitigate the adverse effects of the ongoing food, energy, and financial crises on the nutrition, health, and safety of our women and girls."
Secondly, she called for making added efforts to keep girls in schools, secure them from cybercrimes, and reduce the growing digital divide many of them face.
Her third proposal has advocated for expanding scope for women's gainful employment, decent work, wage equality, and financial inclusion.
In her fourth and fifth proposals, the premier suggested taking a deeper look at women's need for protection and resilience due to aggravating climate impacts alongside promoting a level playing field for women to have an active and sustained political career.
"I feel truly inspired by your commitment to our shared vision of gender equality," she said.
The premier expressed her gratitude to President Ramaphosa for inviting her to speak on an issue close to her heart and congratulated all South Africans on celebrating Women's Month.
About measures taken in Bangladesh to ensure equal rights of the women, she said the Constitution, framed under the direct supervision of Father of the Nation, Bangabandhu Sheikh Mujibur Rahman, guarantees equal rights for women.
Article 28(2) of the Constitution says, "Women shall have equal rights with men in all spheres of the state and of public life," she added.
"We have a unique case in our National Parliament where our Speaker, Leader of the House, Leader of the Opposition, and Deputy Leader of the House all happen to be women," she said.
The prime minister said her government has opened the doors for women to become judges of the highest court, higher positions in civil administration, armed forces, law enforcing agencies, vice chancellors of public universities, and so on.
She said that an increasing number of women are getting engaged in politics, as 30 percent of seats have been preserved for women in the national parliament and local government bodies.
"I think education and employment are two key elements that can empower women. So, greater emphasis has been laid on female education," she said.
"The girls' education up to 12th grade has been made free. Enrollment at the pre-primary and primary levels rose to 99%. The female-male school enrollment ratio rose to 53:47," she added.
About 25 million students have been brought under various stipend and scholarship programmes, she said, adding that stipend money reaches the mothers or legitimate guardians directly through their mobile phones.
The premier mentioned that free books have been distributed among students up to the secondary level since 2010 and the increasing rate of female education has significantly lowered the rate of child marriage.
In primary education, she mentioned that 60 percent of teacher posts have been earmarked for females and a 10 percent quota was reserved for females in government jobs till date.
"Women also make up the backbone of our export-oriented readymade garments industry, with 2.5 million women directly working in the sector as women are also doing well in business," the premier said.
"We offer loans, training, and market access for women in micro, small, and medium enterprises. Many of our rural women now work as IT freelancers or as partners in local digital centers," she said.
She also said the social safety net initiative taken by her government covers the most vulnerable women, including those with disabilities.
"I have made arrangements for joint ownership of homes by husband and wife under my free housing project, Ashrayan," she said.
Foreign Minister Dr AK Abdul Momen and Prime Minister's Private Industry and Investment Adviser Salman Fazlur Rahman were present.
Besides, President of Tanzania Samia Suluhu spoke at the BRICS Outreach Luncheon.