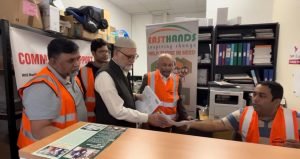 5 September 23: Residents of Tower Hamlets have benefited from the Community Support Project organized by EastHands Charity, with support from NHS North East London and Tower Hamlets Council.
This project commenced in the second week of June and concluded on September 3rd. It provided guidance on various matters, including bank loans, electricity bills, gas bills, council tax, benefit applications, Universal Credit applications, and other related concerns for Tower Hamlets residents.
Rumana Raki, the Coordinator of the Community Support Project, stated, "Our shadow office at 7 Martha Street had our specialist volunteer team available every week for three days from 12pm to 4pm until September 3rd. They were here in person to discuss the residents' issues directly. Our team has worked alongside the relevant departments to address residents' problems."
Nobab Uddin, Chair of EastHands Charity, highlighted the charity's dedication to various developments within the local community. NHS North East London and Tower Hamlets Council supported this community support project. Additionally, we gathered information from people during various community events, aside from our shadow office. We identified their issues and brought them to the office for resolution. Over one hundred residents have participated in this project.