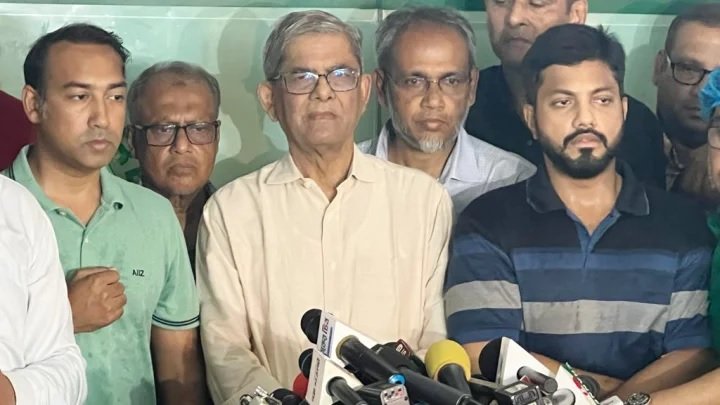 Dhaka North City Corporation (DNCC) mayor Md Atiqul Islam and Dhaka South Citry Corporation (DSCC) mayor Sheikh Fazle Noor Taposh should resign shouldering responsibilities of their failures to control dengue mosquitoes in the capital, said BNP Secretary General Mirza Fakhrul Islam Alamgir on Wednesday..
He made the remarks after inaugurating blood doination programmes at two hospitals in the capital on Wednesday (September 6) morning.
Fakhrul said they have no accountability to the Dhaka city dwellers. The city corporations are also not accountable to anyone. They are busy with creating new markers and shopping malls. They know how to plant new saplings cutting down old trees on both sides of roads. They don't provide minimum services to the people live in their areas. They also failed to provide services to people during the Covid-19.
"I think that the two city corporation mayors who are clinged to power should resign from their post shouldering responsibilities of their failures. Corruption is the main target of the elected mayors backed by Awami League. They are taking the country to the edge of destruction through corruption," he said.
The BNP Secretary General observed that dengue had spread to all over the country like contageous disease. More than 600 dengue patients have died so far. Everyday people are being infected with dengue, particularly children. Those who are not receiving proper treatment, they are dying. The government has failed to contyrol any disease. Dengue is a mosquito carrying viral dengue disease and it is not difficult to control dengue. It has been possible to control dengue in a populous city like Kolkata.
Mentioning that every single sector has become riddled with corruption, Mirza Fakhrul said Bangladesh's biggest foreign exchange earning source is the ready-made garment sector. The US dollar price has reached at such a level that the owners can purchase dollar. On the other hand, situation in education and health secretary is very fragile. Economy is heading towards a total destruction.