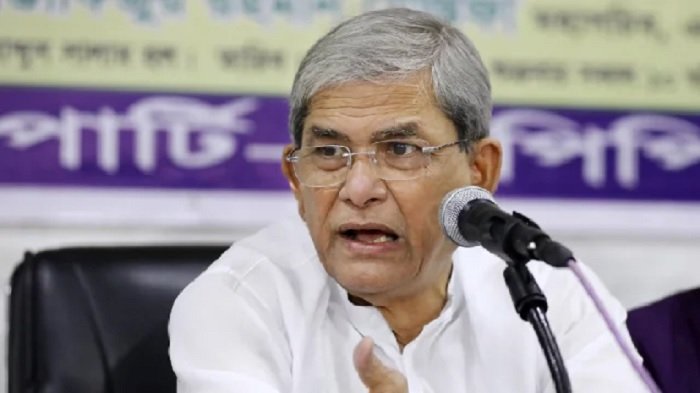 BNP Secretary General Mirza Fakhrul Islam Alamgir has expressed the apprehension that the country will be heading towards conflict if the government doesn't resign from power.
"As long as you [Sheikh Hasina's government] remain in power, the country will be heading toward further conflict, further deterioration, and conflict will continue to increase. Conflict has not yet started," he said.
Mirza Fakhrul expressed the apprehension while addressing a press conference at the BNP Chairperson's political office at Gulshan in the capital early Thursday (September 21) afternoon.
The press conference was convened to inform the outcome of the party's standing committee meeting held on Tuesday (September 19) which was presided over by the BNP acting chairman.
The BNP Secretary General observed that it has become clear that the way the Awami League is moving, people would rise against them. People themselves would realise their rights as they brought independence through long struggle and war. People also restored democracy through an intense struggle back in 1990. They are still struggling and fighting.
Addressing the topmost leadership of the ruling Awami League, Mirza Fakhrul said, "We hope that you will resign for the greater welfare of people, for restoring democracy, and for protecting the rights of people. We called for your resignation for those issues. Please, come away from this place so that people can elect their own government through casting their ballots in a free, fair and credible election."
Referring to the statement of Judicial Cadre Service Association regarding the conviction of human rights organisation Odhikar's secretary Adilur Rahman Khan and director AMM Nasir Uddin, the BNP Secretary General strongly condemned it, saying that "issuing such a statement is unprecedented incident. Certainly, it is an obstacle to the impartial role of the judiciary. The BNP standing committee thinks that judges at all levels of the judicial system must remain controversial political activities."
On the European Union's decision not to send an election observation team during the upcoming general elections, the BNP leader said, "The EU sent a team a few weeks ago to observe the situation in the country. The EU observation team engaged in talks extensively with stakeholders from all political parties."
"Their message is unequivocal, there is no conducive atmosphere for conducting free and fair election in the country, and therefore it is not feasible to deploy observer teams here," Fakhrul said.
He stressed that despite facing numerous provocations, including arrests, legal actions, and physical abuses, the BNP is continuing their peaceful protests.
In response to Dhaka South City Corporation (DSCC) Mayor Sheikh Fazle Noor Taposh's statement over not letting Mirza Fakhrul to enter Dhaka, he said that the mindset reflected in Sheikh Fazle Noor Taposh's words was concerning.
"You'll find his (Sheikh Fazle Noor Taposh) mindset in his remarks. It's totally distinctive. I repeatedly say that you will find terrorist vibes in their characters, in their remarks. They always try to display a jamindari (like feudal landlord) vibe. Because of it, they tend to dictate who they would allow to enter the Dhaka city, and who doesn't. I don't give importance to such threats, because we received many such threats in the past. People of Bangladesh don't bother to listen to who says what. They are determined to achieve their goal. And, it is a free, fair and impartial election under a neutral government. That is the point."