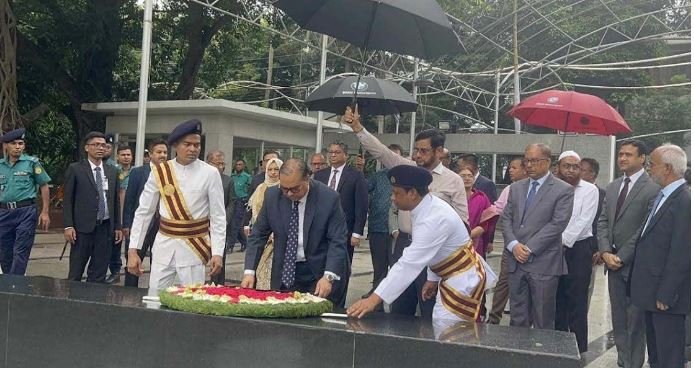 Newly appointed Chief Justice Obaidul Hassan today paid homage to Father of the Nation Bangabandhu Sheikh Mujibur Rahman by placing wreath at his portrait at Dhanmondi-32 here.
Hassan, the 24th chief justice of the country, also signed the condolence book kept there.
"Today, I took oath for establishing rule of law and justice for the common people by staying on the path of the ideology of Bangabandhu. He (Bangabandhu) gave us the constitution and it is the responsibility of all the judges of Supreme Court to protect that," the chief justice said while talking to newsmen there.
Earlier in the day, President Mohammed Shahabuddin administered the oath to Obaidul Hassan. The Head of the State administered the oath at a brief ceremony at the Durbar Hall of the presidential palace at 11am.
Cabinet Secretary Md Mahbub Hossain conducted the oath taking ceremony.
Later, the new chief justice came to Supreme Court and exchanged views with the judges from the Appellate Division and the High Court Division.
On September 12, the President under Article 95 (1) of the Constitution appointed Supreme Court's Appellate Division judge Obaidul Hassan as the Chief Justice of Bangladesh.