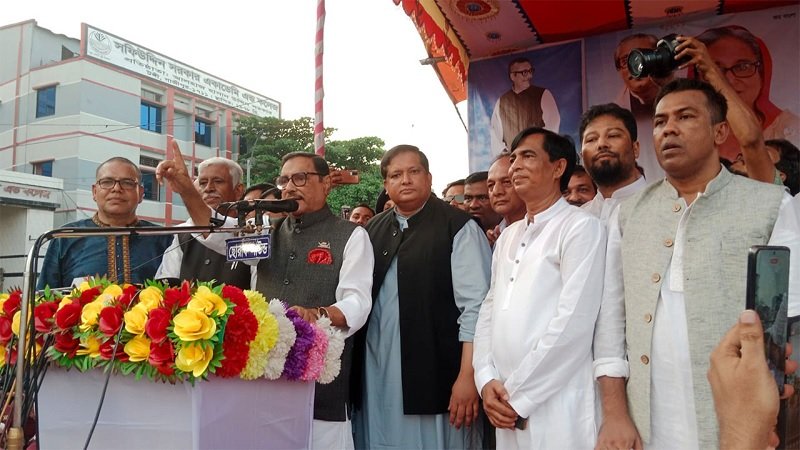 Awami League General Secretary Obaidul Quader has said the Bangladesh government doesn't bother about the US visa policy.
"I want to convey a message that we don't bother about the sanctions on us from any country. We have liberated our country to follow anyone's sanctions. This country has been liberated not to abide by the sanctions of any particular country," he said while speaking as the chief guest at a peace rally at Shafiuddin Sarkar Academy and College ground in Tongi on Wednesday afternoon.
"We will hold our election, but who are you to impose sanctions on us staying far from thousands of miles away," he asked the United States government.
Quader, also the road transport and bridges minister, said the BNP's dream of ousting the Awami League government by occupying Dhaka city will never come true.
The AL leaders and activists will resist them (BNP men) on the streets and BNP's dream of going to the state power capitalizing their foreigner masters will never be fulfilled, he said.
"We will play games. We will play games next month, while the final play will be held in the first week of January. Be ready for the final game," he said.
Chaired by Gazipur City AL President Advocate Azmat Ullah Khan, the rally was addressed, among others, by AL joint general secretary Mahbubul Alam Hanif, organising secretary Mirza Azam MP, Liberation War Affairs Minister AKM Mozammel Haque, AL presidium member Abdur Rahman, State Minister for Youth and Sports Zahid Ahsan Russell, Simin Hossain Rimi MP, and Iqbal Hossain Sabuj, MP.
Former joint general secretary of Gazipur City AL Md Motiur Rahman Moti moderated the rally.