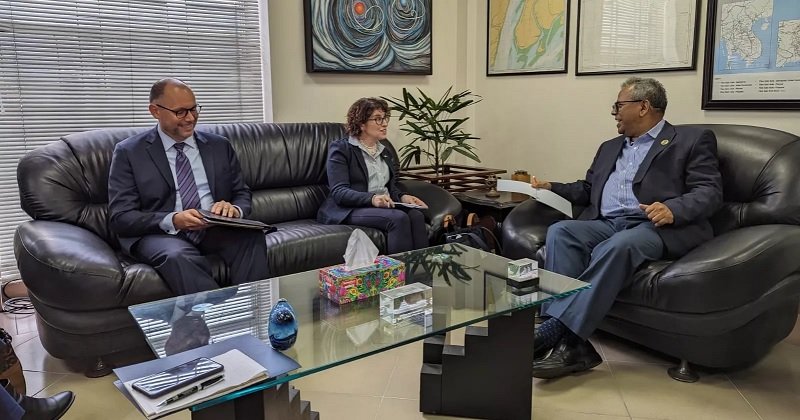 Acting Foreign Secretary Rear Admiral (Retd.) Md. Khurshed Alam on Sunday said the US side did not raise anything related to the recently announced US visa policy.
"I can unequivocally tell you that they did not initiate any discussion about the visa policy," he told reporters after his meeting with US Assistant Secretary of State for Consular Affairs Rena Bitter, reports UNB.
He said the visit was part of regular engagement and she did not come for discussing any specific issue.
They discussed issues of mutual interest regarding consular issues, said the acting Foreign Secretary.
Asked how the visa policy will be applied, he said it is up to the US side and the government does not show any interest to know it. "You (media) might have that enthusiasm."
The acting Foreign Secretary, however, raised the issue of delay in getting visas by Bangladeshi students and Bangladesh-origin people who work in international organizations.
They US side assured of considering it to further expedite the process, he said.
Regarding the Rohingya repatriation, Khurshed Alam said there is no disagreement over their dignified return.
But, he said, the international community needs to give attention to the problems like drug trafficking and other security concerns.
Increased interest in student visas, consular assistance to American citizens, and U.S. efforts to reduce visa interview wait times were some of the topics discussed by Assistant Secretary of State for Consular Affairs Rena Bitter and acting Foreign Secretary, Rear Admiral (Retd.) Md. Khurshed Alam, said the US Embassy in Dhaka, noting that the US study and travel are booming.
US Ambassador to Bangladesh Peter Haas was also present at the meeting.
The US senior official visited Islamabad and Karachi before her arrival in Dhaka on Saturday
"Her trip underscores our deep and sustained commitment to the protection of U.S. citizens overseas and the facilitation of legitimate travel and immigration to the United States," said the Spokesperson at the US Department of State.
On the other hand, Janine Wynne, DAS of the Bureau of Population, Refugee and Migration (PRM), USDOS, called on acting Foreign Secretary Rear Admiral (Rtd.) Md. Khurshed Alam today at the MoFA.
They discussed the protracted Rohingya crisis and the challenges faced by Bangladesh.
She is scheduled to leave Dhaka early Monday.